| | |
| --- | --- |
| | Welcome to 160knots.com ! |
| | | |
| --- | --- | --- |
| | Flying into San Luis Obispo! | |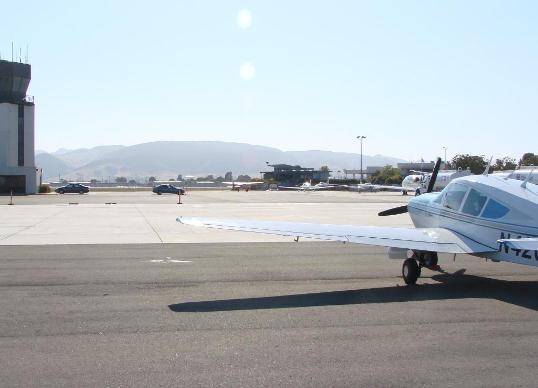 | | |
| --- | --- |
| Best time of the year to go? | Anytime but spring is best! Bring a jacket in the winter. |
| Flight time in a Super Viking from KAJO? | 1.2 |
| Food on the airport? | Yes, above average |
| Fuel on airport? | Yes, good price at one FBO |
| Landing or Handling fees? | No |
| Comments about arriving and departing. | Pretty easy airport to get in and out of. |
| Things to do at or near the airport. | You could make several day trips here to see everything. |
| Rate this stop with 10 being best, 5 average. | 9.5 a lot to do! This is a great overnight stop too. |
| | | |
| --- | --- | --- |
| | | |
| | | |
| | Click above for video | |

| | | |
| --- | --- | --- |
| | | |
| | | |
| | Click above for map | |
| | | |
| --- | --- | --- |
| | The Home of Bellanca N4201B | |
If you don't plan to leave the airport The Spirit of San Luis restaurant is next to the ramp and very good. Advise ground control where you are going and they will let you park right in front of the restaurant. The walk from plane to table is measured in feet. Tables have a view of the runway. They do a nice Sunday brunch. Lunch and dinner is very good too!
Past the Spirit of San Luis in the main terminal is the rental car counter. Four major rental companies are located next to baggage claim. The San Luis Obispo area has several places to go so I suggest you rent a car.
This trip our first stop was Cayucos. Continue north on Hwy 1 to the Cayucos Drive off ramp then south to the coast. Several places to eat here. I wanted to try the smoked fish taco place but the line was into the street... Really! Instead we went to Schooners Warf and had a nice meal. No trip to Cayucos is complete without a trip to the Brown Better Cookie Company.
Next stop Harmony. I've driven past it several times, this was my first stop. Park anywhere as the entire town can be walked in 4 minutes. Just outside of town on the hill there wine tasting, a nice stop for your passangers.
Visit my other page for more info about this area inculding Hearst Castle, San Simeon, Cambria and Moro Bay. There is so much to do here.
| | | |
| --- | --- | --- |
| | Welcome to 160knots.com ! | |
The building center frame is the Spirit of San Luis restaurant. Above average food with a view of the runway. Pilot owned!
This restaurant serves not only GA and the Jet Center but passengers arriving on commercial flights too.
Don't worry, this is not the crew car.
Cayucos on the 4th of July weekend is a real blast.
From the Cayucos pier
Homes in Cayucos
We had lunch at Schooners Warf but there were several places in town to choose from.
The town of Harmary
Harmony's main drag from one end of town to the other.
Get married in Harmony?
The town of Harmony. This is everything
Harmony Cellars is outside of town on a hill. You can't miss it.
Harmony Cellars and Wine Tasting

Several places to choose from. These signs are pointing over the hills. If you're looking for wine tasting these arrows point to

my Paso Robles page.