| | |
| --- | --- |
| | Welcome to 160knots.com ! |
| | | |
| --- | --- | --- |
| | Flying into Morro Bay and Hearst Castle ! | |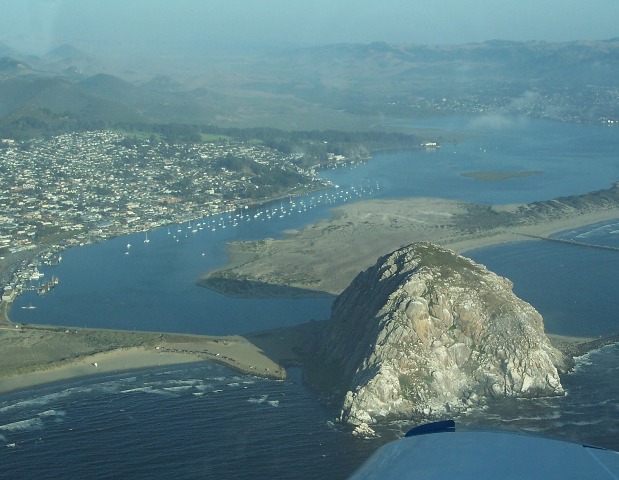 Click on image above for a video of this trip!
Best time of the year to go?
Anytime, bring a jacket for all but the hottest months.
Flight time in a Super Viking from KAJO?
1.3 hours
Food on the airport?
Yes, land at San Luis Regional
Fuel on airport?
Yes
Comments about arriving and departing
Caution departing at night. Often there is no natural horizon.
Rate this trip
10 being best, 5 being average.
8.0, a great location anytime of the year but save it for when it hot inland.
| | | |
| --- | --- | --- |
| | | |
| | | |
| | | |

| | | |
| --- | --- | --- |
| | | |
| | | |
| | | |
| --- | --- | --- |
| | California's Central Coast | |

Visit my San Luis Opispo airport page for more information about this area.

The airport of choice for Morro Bay, Cambria, San Simon and Hearst Castle is clearly San Luis Obispo Regional and a rental car is required. This airport is controlled and has a ILS approach if needed. After landing taxi to transit parking. The control tower is always very helpful with transit pilots. Walk west across the ramp though a security gate then to the airline terminal where the rental car desks are located. Make sure and ask for directions to the freeway because you'll need to go south for 3 or 4 miles to find the northbound 101.

The Central California Coast is gorgeous and you could spend 3 or 4 days in this area easily. If this is a day trip I suggest you don't try to do everything. Because of the location several world class chiefs have opened restaurants in the cites below. Several nice hotels exists both in the hills on on the beach. There are so many nice places to eat, shop and stay I'm not going to recommend anyplace by name.

Morro Bay (15 minutes) is a nice stop with shopping and several outstanding places to eat, all are along the waterfront. There are several actives, harbor tours, kayak rentals, the beach and be sure to watch the California Sea Otters in the kelp on the road to the rock. Hotels on the bluff overlook the harbor.

Cambria (25 minutes) is not on the water but a very charming town. Fine restaurants and fine art galleries, shopping and places to stay. Make sure to visit Burton Drive, nice shops and restaurants. Give your wife the credit card and you may have to sell the airplane.

San Simeon (35 minutes) is simply there to support people visiting Hearst Castle. Several places to stay and eat. The food is nothing special and for a good evening meal I suggest you return to Cambria or Morro Bay. Some of the hotels in San Simeon are on the beach.

Hearst Castle (40 minutes) if your time is limited don't miss this California treasure. Purchase your tickets early making sure you get the tours desired. I suggest you take the main tour first then choose a smaller tour. The evening and night tours are wonderful. Try taking the main tour then have lunch, returning 3 to 5 hours later for another tour.

| | | |
| --- | --- | --- |
| | Morro Bay ! | |
| | |
| --- | --- |
| | Morro Bay from the air |
| | Harbor entrance to Morro Bay |
| | Homes on final to KSBP |
| | San Luis Obispo Regional Airport |
| | Harbor |
| | Harbor |
| | The rock |
| | On the way home. Taken over downtown Los Angeles looking off shore towards Santa Catalina Island. |
| | Hearst Castle |
| | | |
| --- | --- | --- |
| | Hearst Castle, evening tour at Christmas. | |
| | |
| --- | --- |
| | Outdoor pool at sunset |
| | Outdoor pool at sunset. Staff dresses in period clothing and can often be seen during tour. |
| | |
| | |
| | Library |
| | |
| | Indoor pool |