| | |
| --- | --- |
| | Welcome to 160knots.com ! |
| | | |
| --- | --- | --- |
| | My links page. | |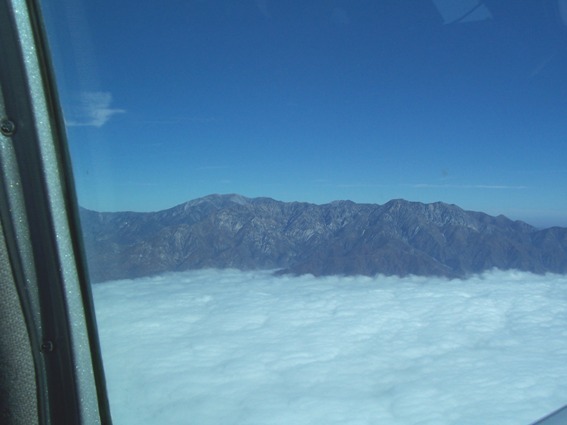 This is a pretty typical spring morning in the LA basin. Usually 1200 ovc and 10 miles with tops at 3000. The mountains pictured are about 10,000 feet
| | | |
| --- | --- | --- |
| | Bellanca Links | |
| | | |
| --- | --- | --- |
| | General Aviation Links | |
This category is dedicated to those of us who fly real planes. Those of us who make control input to an aircraft by the seat of out pants without asking for computer approval.
Rene's web site of Private Pilot VFR Flying Trips. This guy goes everywhere. Good site, lots of pictures!

110Knots.com - Mike claims I'm his inspiration. That's a burden to carry! I've watch Mike build his website over the years and he's made it very nice. Travel and aviation news.

Keith Smith has done a good job with his aviation blog. Lots of trips, pictures and videos from the West Coast and East Coast.


Michael Timineri has a web site where he is documenting his flight lessons. Michael is based out of Sacramento Executive.

Cecil Chapman has a web site covering his pilot training from Student Pilot to CFI. Cecil also coverers local $100 hamburger locations within reach of the SFO bay area.

Gary's Flight Journal is a pretty active blog. He's on the east coast and a fairly new private.

IFR Pilot has another good blog. He's working on his advanced ratings in the mid-west.
| | | |
| --- | --- | --- |
| | Useful Aviation Links | |




The best weather site I've ever found would be Dan Checkoway's Weather page on his RV Project site. All weather is de-coded into plain language and color coded. The winds loft is so simple to use I can't stand it. You can customize the page to default to your local area. If you start using this web site you will stop using all others. Did I say it was free too? I do donate money to Dan but it's well worth it.

AOPA, if you're not a member join. One of the better aviation magazines comes with membership. The on line airport directory is very good and prints out in kneeboard format. AOPA's Real Time Flight Planer is worth the price of membership alone.
AirNav is very valuable. I use the fuel prices more than anything saving myself about $500 a year.

The Sacramento Sky Ranch is the best site I've found on the internet for repairing your plane. They sell parts too. I liked it so much I bought the $22 DVD.

Is Welding, medical, and aviation oxygen the same? Read this!

An excellent video of a Private Pilot Oral Exam. This video is 1 1/2 hours long and worth every second.

FlightAware is used by my friends wife to follow us enroute so she knows when we are heading for home. You can also look at IFR flights you flew several months back. The first thing you find out is, you can't fly a straight line.




| | | |
| --- | --- | --- |
| | Other Aviation Links I Surf. | |
| | | |
| --- | --- | --- |
| | Non aviation links | |