| | |
| --- | --- |
| | Welcome to 160knots.com ! |
| | | |
| --- | --- | --- |
| | Lake Powell and Rainbow Bridge ! | |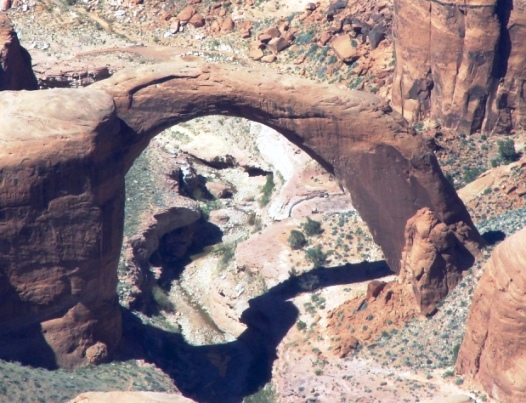 Rainbow Bridge National Monument
GPS Location
N 37 04.748
W -110 57.267
Best time of the year to go?
Early Spring, beat the heat and the crowds
Flight time in a Super Viking from KAJO?
2.4 Landing at Page AZ
Rate this trip
10 being best, 5 being average.
9.5 See my Page Arizona and Antelope Canyon pages for the complete trip.
| | | |
| --- | --- | --- |
| | | |
| | | |
| | | |
| | | |
| --- | --- | --- |
| | Rainbow Bridge By Air | |

If you didn't bring your own plane not to worry. Air Tours are available in the terminal of the Page Airport.

Classic Aviation at Page Airport was very helpful in marking my map and giving me a GPS location for Rainbow Bridge. They also gave me the Air Tours frequency to listen for other traffic. We departed Page Airport and climbed to 2000' agl and had a wonderful view of the lake. High canyon walls block the view of the bridge and it's best seen from the east looking west. Look at my video for more information.

| | | |
| --- | --- | --- |
| | Rainbow Bridge by Water | |
We bought tickets though the Lake Powell Resort and our boat departed from the Wahweap Marina which is about 10 miles from Page. The Wahweap Marina is in a National Park Fee area and the boat ride was about $135 per person including the Navajo Nation Fees. It's a three hour ride each way, the boat 'Canyon Odyssey' took us to Rainbow Bridge with a cruise speed of 18 knots slowing only when our wake was an issue. After touring the Rainbow Bridge we returned to box lunches which were included in the ticket price.
Plan on spending the day on this adventure! The ride across Lake Powell is nothing short of gorgeous and it's well worth the money.
| | |
| --- | --- |
| | Lake Powell |
| | Lake Powell |
| | Lake Powell |
| | The canyon leading back to Rainbow Bridge. Rainbow bridge is under the wing. |
| | Rainbow Bridge National Monument |
| | Rainbow Bridge National Monument |
| | Rainbow Bridge National Monument |
| | Glen Canyon Dam |
| | Lake Powell |
| | Lake Powell |
| | Lake Powell |
| | Lake Powell |
| | Lake Powell |
| | Lake Powell |
| | Lake Powell |
| | The canyon leading back to Rainbow Bridge |
| | The canyon leading back to Rainbow Bridge |
| | The canyon leading back to Rainbow Bridge |
| | The dock at Rainbow Bridge |
| | |
| | |
| | |
| | How big is it? Just below the left leg of Rainbow Bridge note those small dots are a group of people. |
| | How big is it? Just below the left leg of Rainbow Bridge note those small dots are a group of people. |