| | |
| --- | --- |
| | Welcome to 160knots.com ! |
| | | |
| --- | --- | --- |
| | Corona Airport Flood - December 2010 ! | |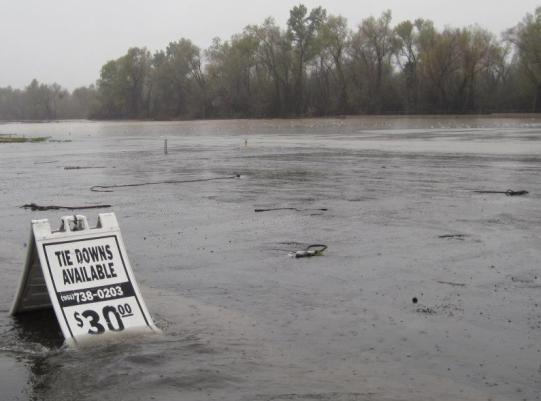 Tuesday December 21 4:00pm, our 3rd day of heavy rain. The flood waters are right at the end of the runway.
| | | |
| --- | --- | --- |
| | The Underwater Home of Bellanca N4201B | |

First off, thanks to everyone who sent me an email concerned for my safety, I and my plane are okay. We both survived the Corona flood!

I had been been watching the water level, inflow and outflow at Prado Dam for two days via the web. I woke up at 4:00am (12/21) and the water had risen 6" an hour for 6 hours to a level of real concern. I got dressed and was packing my hangar before daylight. At first light the water was about 2 feet below the west end of the runway and it was raining really hard. It took three trips in my Chevy Tahoe, I got everything, even the trash out.
By now the water was almost even with the west end of the runway and it was still raining hard. When the runway end goes under water the airport will be NOTAM'ed closed. Our AWOS was reporting 100 broken and two miles. To my amazement Chino tower 7 miles away was VFR with 2700' and 3 miles. I called the local controller on my handheld (no one was flying) and he verified they were still VFR but they didn't expect it to last long. I jumped in and taxied to the runway and did a quick runup half expecting the airport manager to call on the radio saying the runway was closed. I called Chino tower once more, they were still VFR so I departed.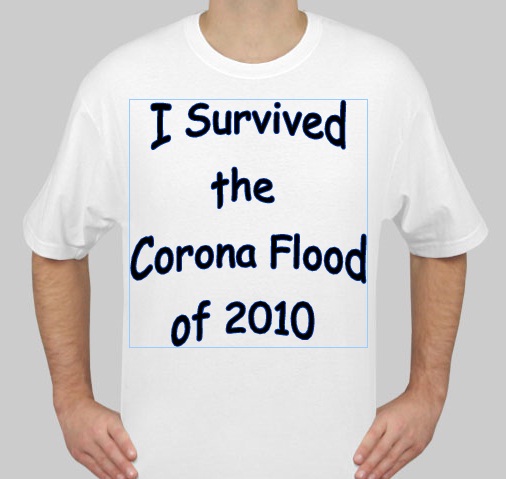 Corona is in uncontrolled airspace so all I needed was 1 mile and clear of clouds for VFR. Chino needs 3 miles and 1000'. It had been a wild morning and I was pretty hyped up at this point, IFR was not something I wanted to do.
It would be better if I didn't talk about some parts of that trip. You just need to know N4201B made it to a tie down at Chino and all my hangar stuff (man cave) is in the garage.
Why were so many unaware the airport was about to flood? There were several breakdowns.
~Few were notified. All the owners I spoke with hadn't been notified of the rising water. Many heard about flooding on the evening news. By then it was too late.
~There is not a good system to notify aircraft owners of an event. Since 2006 I've asked the airport manager to collect email and text page address so he could send a warning to everyone in seconds be it fire or flood. It's never happened!
~The day before the flood the city was telling people the water would not exceed elevation 520' and most the airport was okay. With that news many let their guard down. Within 36 hours we were at 530' and flood water had claimed 90% of the airport. It was easy to see we were in real trouble and 520' would be far exceeded. Do the math, the water was at 515' (end of runway) with 35,000cfs inflow with only 4,500cfs outflow and 24 hours of heavy rain in the weather forecast. My concern was the entire airport could go under, the city insisted I was wrong. I fail to understand why the city didn't see the danger.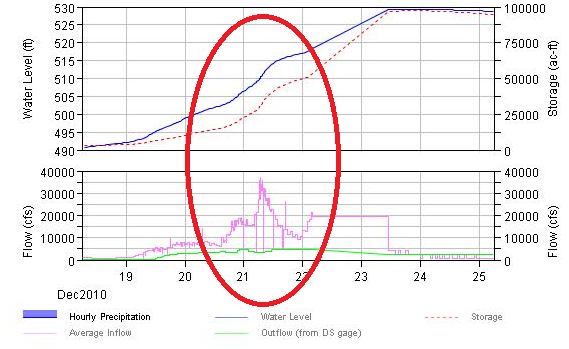 ~On both Tuesday and Wednesday city vehicles were rushing up and down the runway with their yellow blinking lights, they did nothing but give interviews to the press and get in the way. Pilots took it upon them self to cut down the gate and street signs and move aircraft to higher ground.
~The Army Corps of Engineers web site stopped recording water elevations during the critical 36 hours leaving most to think the water level wasn't increasing.
~Finally blame rests on Corona pilots and aircraft owners who know the airport is in a flood plain but failed to check in and see what was happening.
Anyone is welcome to use the following pictures but you must give credit to http://160knots.com .


| | | |
| --- | --- | --- |
| | Pictures taken on December 21, 2010! | |
| | |
| --- | --- |
| | Taken from my hangar at 3:00 PM. The water is starting to pond off the end of the runway. |
| | Air 7 HD drops in for a few minutes. |
| | Found it amusing to see so many UHauls at an airport. UHauls and an Airport, isn't that a bad thing? |
| | The lower areas of the airport are already flooding as tenants scramble to save their treasures. |
| | Water is slowing rising. |
| | A 4:00pm view from the upper deck. I had planed to take a picture here the next day at the same time but I didn't have a boat. |
| | 4:00pm and we are about to loose the runway. |
| | | |
| --- | --- | --- |
| | Pictures taken on December 22! | |
| | |
| --- | --- |
| | Water washed under the footing of the retaining wall sending a wave across the airport. Most are caught off guard. |
| | The last hangar end (yellow) is my row. |
| | These guys were looking for a Cessna 182 they hoped someone else had moved. Unfortunately that persons had to be rushed into emergency surgery. They found the tail barely above the water line. |
| | The fuel island is sand bagged just in case. |
| | The last hangar end (yellow) is my row. |
| | | |
| --- | --- | --- |
| | Pictures taken on December 23! | |
| | |
| --- | --- |
| | The water rises to the VASI and fuel island. |
| | Cheapest fuel in SoCal shuts down. |
| | The approach end of runway 25 |
| | Strange marks on the runway? Two sets about 18' apart. |
| | The guys on the bench didn't save the car but the recliners made it to higher ground. |
| | Over the objections of the airport manager the gate, card reader and road signs are cut off so aircraft can be moved off property. |
| | Aircraft are moved to a road leading to the park. |
| | | |
| --- | --- | --- |
| | Pictures taken on December 24! | |
| | |
| --- | --- |
| | Wow!!! Looks a lot different from the air. |
| | The fuel island again. The water has receded almost a foot. |
| | Aircraft are packed into higher ground. If the water goes up a few feet more all may be lost. |
| | |
| | The sewage treatment plant was diked off a couple of years ago but not the airport? The airport was there several decades before the sewer plant. |
| | Midfield |
| | |
| | Looking down runway 07 |
| | The deep end. This is where the UHauls were loading up 4 days ago. |
| | My hangar and some submerged aircraft are located here. |
| | | |
| --- | --- | --- |
| | Pictures taken on January 5, 2011! | |
| | |
| --- | --- |
| | As the water receded aircraft hidden from view re-appeared. |
| | These aircraft had spent almost 2 weeks underwater. |
| | My hangar neighbor 3 doors down trying to reclaim his plane. |
| | Note the high waterline. |
| | The waterline here was almost to the roof. |
| | The fuel island gets washed down |
| | Hangars were yellow or red tagged by the city of Corona. |
| | This is my hangar. The water line is clearly visible. I can't understand why the taxi way was washed down when just inside the doors... |
| | ...there is 3" of mud. |