| | |
| --- | --- |
| | Welcome to 160knots.com ! |
| | | |
| --- | --- | --- |
| | Flying into the Warner Springs Airport ! | |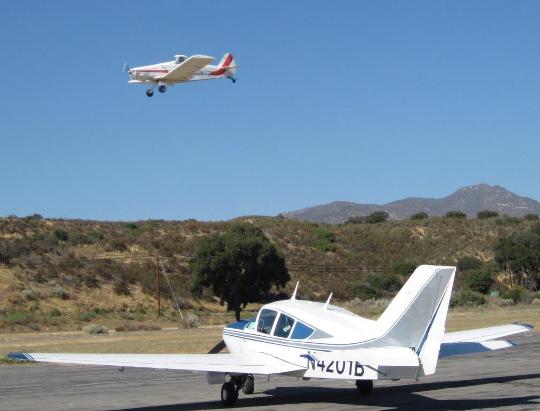 N4201B on the ramp at Warner Springs Airport
| | |
| --- | --- |
| Best time of the year to go? | Anytime but spring into early summer would be best. |
| Flight time in a Super Viking from KAJO? | 0.5 |
| Food on the airport? | No, your must travel to the ranch. |
| Fuel on airport? | No |
| Landing or Handling fees? | No |
| Comments about arriving and departing. | Prior Permission Required! |
| Things to do at or near the airport. | Visit the Warner Springs Ranch |
| Rate this stop with 10 being best, 5 average. | 7.5 |
| | | |
| --- | --- | --- |
| | | |
| | | |
| | Click above for video | |

| | | |
| --- | --- | --- |
| | | |
| | | |
| | Click above for map | |
| | | |
| --- | --- | --- |
| | Never heard of Warner Springs? | |



I've wanted to stop here for years but the private airport thing scared me away. I also heard getting transportation to and from the resort was not possible. I finally looked up a number and called the airport. The phone was answered by a pleasant voice who quickly gave permission to land. She also asked if I needed transportation?



The last 10 miles to the airport be really heads up for glider and tow plane traffic. Be very aware of the glider traffic pattern vs the motored pattern, this is primarily a glider port after all. Don't forget, unless you're screaming MAYDAY you almost never have the right away. Info about traffic patterns can be found here and here.

After landing Karen, owner of SkySailing, showed up and took us to the ranch. She said if we had any trouble getting a ride back from the desk to call her.



We headed to the golf club house for lunch before we did anything. A small menu and the food was average. There are other places to eat but their hours are limited.



The Warner Springs Ranch is a private resort with a guarded gate. I asked for and received a free guest pass at the front desk. I sure if I wanted to use the facilities I would have been charged for the pass. My wife and friend are wanting to trailer their horses up there for the weekend so we headed to the equestrian office. The resort is older and rustic with over 200 cabins most built under tall trees, there are a lot of amenities including the natural hot springs . At one time Warner Springs was a stage coach stop, the only inhabited stop between New Mexico and Los Angeles. Read up on the history of the ranch here.



This trip would be best with an overnight stay at the Ranch so you could relax and enjoy the hot springs. Suggest you look up the reviews of this location before you go because they do run hot and cold. If you're expecting a 4 star resort you'll be disappointed. That's not to say it isn't a good trip, many buildings were built in 1922 to 1945 so rustic is a good word.





One word about walking the 2 miles between the airport and the ranch. We did it one way just for the exercise. The shoulder is narrow or non existent and traffic is moving really fast around blind corners. For safety reasons I don't recommend it.




| | | |
| --- | --- | --- |
| | Pictures from Warner Springs Ranch ! | |
| | |
| --- | --- |
| | The source of the Hot Springs bubbles up here. |
| | The source of the Hot Springs bubbles up here. |
| | Two pools, the far pool is hot springs. The closer pool is cool water. |
| | The Warner Springs Golf Course. |
| | Bellanca Super Viking N4201B |