| | |
| --- | --- |
| | Welcome to 160knots.com ! |
| | | |
| --- | --- | --- |
| | Flying into the Santa Ynez Valley Airport! | |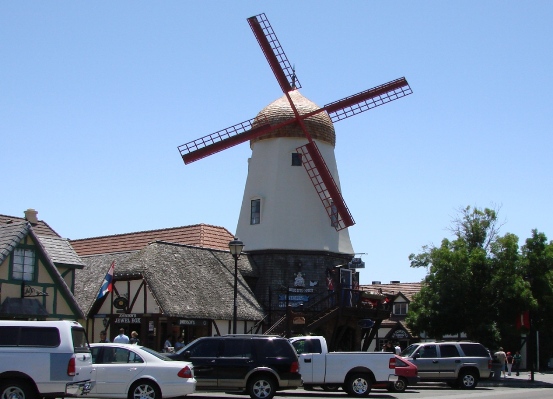 No trip to Santa Ynez is complete without a visit to Solvang

Best time of the year to go?
All year
Flight time in a Super Viking from KAJO?
0.9
Food on the airport?
No, several off airports restaurants however.
Fuel on airport?
Yes, self serve and from the truck.
Comments about arriving and departing
Noise sensitive area, watch for gliders.
Rate this trip
10 being best, 5 being average.
7.5
| | | |
| --- | --- | --- |
| | | |
| | | |
| | | |
| | | |
| --- | --- | --- |
| | Landing at Santa Ynez Valley Airport | |

Santa Ynez is just over the ridge line from Santa Barbara. The ridge line protects the Santa Ynez Valley from the marine layer and it's not uncommon for Santa Barbara to be hard IFR and Santa Ynez to be clear and 20. The Santa Ynez Valley is simply California at it's best!

There are a couple of transportation options from the Santa Ynez airport.
Hertz has about three rental cars located at the airport. They do go fast and I suggest you reserve one ahead of time. Simply call Hertz for a resveration.
"A Cab" (888-354-TAXI) will pick you up at the airport for less than $18. "A Cab" seems to be really fair with the fare. Other taxi's have charged me $35 for the 4 mile drive to town. The FBO can call a cab for you.
The Casino will pick you up for free but it won't get you to town.
Solvang (Danish for 'sunny field'), the beautiful little city nestled in the Santa Ynez Valley. Founded in 1911 by a small group of Danish teachers, Solvang now is a diverse , modern city, with fine restaurants, lovely shops and outstanding activities to enchant young and old alike.There are Danish festivals, quiet tree lined streets, horse drawn wagons, Hans Christian Andersen Park, windmills, Danish pastries and dozens of quaint shops to explore.
Plan a full day here as your wife will feel the need to visit EVERY store. Not to worry however there are plenty of places to sit on the sidewalks. I've found several places in town to eat and suggest you head for Paula's Pancake House while you plan your next meal. Shopping is everywhere! Make sure you get a bucket of cookies for the trip home.

| | | |
| --- | --- | --- |
| | Pictures from our trip to Solvang | |
| | |
| --- | --- |
| | Glider operations at Santa Ynez Valley Airports. |
| | Glider operations at Santa Ynez Valley Airports. |
| | Glider operations at Santa Ynez Valley Airports. |
| | Departing Traffic |
| | Chairs in the grass make a nice place to rest before departing for home. |
| | Downtown Solvang |
| | Downtown Solvang |
| | This is a Must Eat place. I've eaten here for years (okay decades) and it's simply an outstanding breakfast. Expect a 15 minute to an hour wait for a table. |
| | Delta turning final below us. |
| | The San Marcus VOR |
| | A Dodger game in progress! |