| | |
| --- | --- |
| | Welcome to 160knots.com ! |
| | | |
| --- | --- | --- |
| | Flying into Sedona Arizona ~ KSEZ | |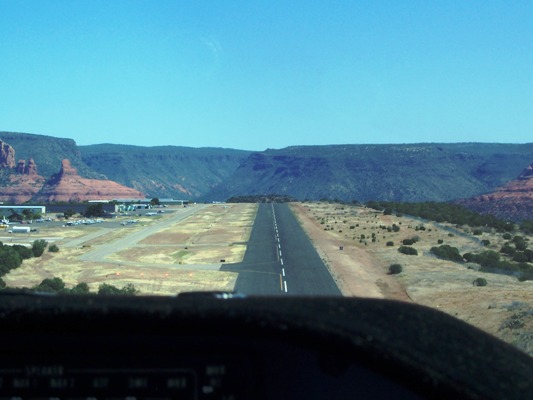 Final approach into Sedona. Note traffic holding for opposite direction departures.
Best time of the year to go?
When it's cool, anytime but summer.
Flight time in a Super Viking from KAJO?
2.0 hours one way
Food on the airport?
Yes, restaurant well above average
Fuel on airport?
Yes, average price
Comments about arriving and departing
Due to runway slope and terrain north of the airport it appears takeoffs to the south and landings to the north are normal even when busy and winds are over 10 knots.
Rate this trip
10 being best, 5 being average.
I'd give it a 9.0 for excellent, walk to good food, easy transportation. something to do on the ground, great view from the cockpit. Like to do it again.
| | | |
| --- | --- | --- |
| | | |
| | | |
| | Click above for video | |

| | | |
| --- | --- | --- |
| | | |
| | | |
| | Click above for map | |
Sedona,

"America's Most Scenic Airport"
For this trip get up and leave early. Sunrise / Sunset at Sedona is dramatic so make sure to catch one. Traffic at the Sedona Airport is a mix of Jets, Bi-Planes, Helicopters and every General Aviation aircraft known to man (notice I left out the space shuttle) so broadcast and listen to the CTAF. Pilots should be aware of opposite direction arrivals and departures. The runway starts and ends at the edge of the mesa so winds are a little tricky and landing short or long will result in a trip to the rental car counter because the plane just made it's last landing.
Assuming you've just flown about 2 hours you'll be hungry. Tie the plane down and get the the Sedona Airport Restaurant for a great breakfast. Lunch is good but breakfast is always better. The computer doesn't take breakfast orders after 11:00am so no amount of begging will help. The Sedona Airport Restaurant over looks the runway and the surrounding mesa's, seating is available inside or out on the patio. You will find a very good dinner here too, it's pricy but the view is worth it.
After breakfast walk over to the terminal where you'll find a gift shop and several scenic air and jeep tour operators. Pink Jeep Tours didn't have a counter but were the only ones who would pick us up and drop off at the airport. After arranging the tour buy a hat, sunscreen and some chap stick, I wish I had! We took a four hour tour and had a great time. One work of caution, everyone and their brother has bought a jeep for tours in Sedona. Pink Jeep has been around for 40+ years and has a fleet of jeeps. They are allowed on land other jeep tours are prohibited from using.
Spending the night might be a good idea on this trip. Sky Ranch Lodge is the only lodging within walking distance of the airport and it's an easy 7 minute walk. You can't miss it as it's on the only road out of the airport. Get a room with a view because it's breath taking. The next closest hotel is down a steep grade about 5 miles away.
| | |
| --- | --- |
| | Sedona from a high final AKA USS Sedona due to steep drop off on both ends similar to an aircraft carrier. |
| | This sign says it all. |
| | Biplane scenic tour departs. |
| | This view is from the Sky Ranch Lodge. |
| | Hard to tell in photo but we are going down a very steep grade into rattlesnake gulch. There must be a reason for that name so I choose to stay in the jeep with my feet up. |
| | View from jeep, because I'm not getting out. |
| | You have to be pretty comfortable with your manhood to ride in a pink jeep especially while in Indian territory. We are clear of rattle snake gulch so I was willing to get out of the jeep. |
| | |
| | |
| | View from the run up pad |
| | Taken as soon as the wheels were up. |