| | |
| --- | --- |
| | Welcome to 160knots.com ! |
| | | |
| --- | --- | --- |
| | Flying into Santa Maria California! | |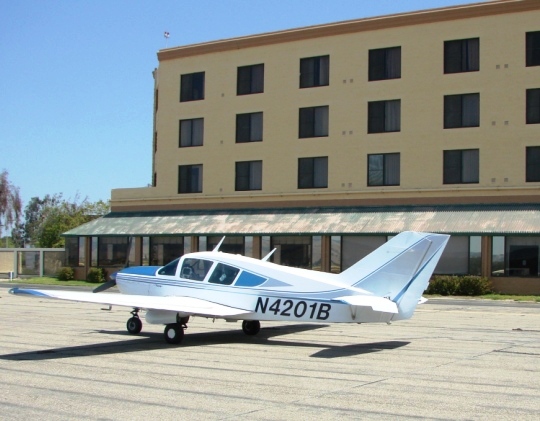 N4201B parked in front of the Santa Maria Radisson Hotel.
Best time of the year to go?
All year but this part of California is very pretty in the early spring.
Flight time in a Super Viking from KAJO?
1.1 Hours
Food on the airport?
The Radisson Hotel does a great Sunday Brunch. Park right in front of the window.
Peppers has above average Mexican Food. It's located in the terminal.
Fuel on airport?
Yes, average price
Landing or Handling fees?
No
Comments about arriving and departing.
Pretty simple to drop off or pick up an airline passenger.
Things to do at or near the airport.
On the airport places to eat. There is also an aviation museum.
Rate this stop with 10 being best, 5 average.
8.0, a very easy airport to get in and out of.
| | | |
| --- | --- | --- |
| | | |
| | | |
| | Click above for video | |

| | | |
| --- | --- | --- |
| | | |
| | | |
| | Click above for map | |
| | | |
| --- | --- | --- |
| | Landing at the Santa Maria Airport | |
This airport is often overlooked by SoCal pilots. A couple of other good destinations airports are near by and few seem stop here. Two above average restaurants are right on the airport making this is a good stop for the wifes birthday or Mothers Day.
Last time we ate at Peppers and I felt the Mexican Food was pretty good. I've seen mixed reports about Peppers but my experience was postive. I've had 52 years in SoCal and I think I know my Mexican Food!
This time we stopped at The Radisson Santa Maria for Sunday Brunch. I'd give it 4 1/2 stars! A very good Buffet Brunch with lots of shell fish, prime rib, omelet bar and several entrees. This is a white table cloth place with a view of the ramp and runway. Park right in front of the door (or window) and simply walk in. The front desk will give you the door code to leave. Brunch was $21 a person and well worth it.
| | | |
| --- | --- | --- |
| | Welcome to 160knots.com ! | |
| | |
| --- | --- |
| | Bellanca Viking in front of the Radisson Hotel of Santa Maria. |
| | Southwest Airlines going by. |