| | |
| --- | --- |
| | Welcome to 160knots.com ! |
| | | |
| --- | --- | --- |
| | Flying into Santa Fe New Mexico! | |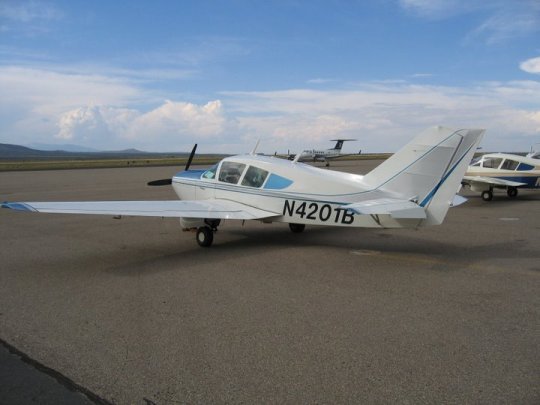 N4201B on the ramp in Santa Fe New Mexico
| | |
| --- | --- |
| Best time of the year to go? | I really don't think there is a bad time. |
| Flight time in a Super Viking from KAJO? | 4.2 |
| Food on the airport? | No |
| Fuel on airport? | Yes |
| Landing or Parking fees? | Parking Fees, Hangars Available |
| Comments about arriving and departing. | Three intersecting runways make things a little confusing if you're not ready. |
| Things to do at or near the airport. | It's Santa Fe! Great food everywhere! |
| Rate this stop with 10 being best, 5 average. | 9.0 |
| | | |
| --- | --- | --- |
| | | |
| | | |
| | Click above for video | |

| | | |
| --- | --- | --- |
| | | |
| | | |
| | Click above for map | |
| | | |
| --- | --- | --- |
| | The Home of Bellanca N4201B | |
What is there to do in Santa Fe? Everything and don't miss the food! Lots of shopping and places to visit. It's a very fun town. Santa Fe is known for it's night life, have a good time!
Both FBO's at the Santa Fe airport are owned by the same company which makes your choice easy. Renting a car though the FBO seemed like the thing to do. Call them day of arrival and your car will be brought to your plane. I also reserved hangar space while I was there for $50 a night. All major brands of hotels are in Santa Fe so take you choice.
The City Different.
There are arguably other cities as exotic as Santa Fe. Just not on this continent.

It strikes you the first time you see The City Different. When city officials came up with that name early last century, they got it exactly right. For rarely does a place speak to so many people on so many levels.

Art lovers, opera lovers, history lovers, food lovers, nature lovers and of course, good, old-fashioned love lovers have all fallen under Santa Fe's spell. It's a place you can't resist.
The landscape conspires to take your breath away. The sunsets are so beautiful and the stars so clear that you can't take your eyes off the skies. But you'll quickly see that there's much to admire in our historic city. The narrow, winding streets invite you to walk closer together. The 400-year-old adobe buildings say, Hey, what's the hurry? Linger a little. And you'll find that lingering is easy to do here.

There's certainly plenty to explore, from the spectacular Sangre de Cristo Mountains outside of town to the world-renowned galleries, museums, boutiques and restaurants just outside your door. The list is almost endless. This site can only whet your appetite and help you plan your perfect visit, whether you're here for a shopping excursion, an outdoor adventure, a rejuvenation weekend or a food odyssey.
To truly understand why the readers of Conde Nast Traveler put Santa Fe near the top of their must-see list, you'll just have to experience it first hand. And start a love affair of your own. It only takes one visit to see that this is one of the world's extraordinary places. And you'll want to return again and again.
All pictures below by Michael and Randi Macosko
| | | |
| --- | --- | --- |
| | Welcome to 160knots.com ! | |
Having your plane hangared in Santa Fe seemed pretty easy but an advanced reservation is required.
Michael and Randi Macosko's Turbo Viking which flew in from Las Vegas Nevada.
John and

Adele Christensen's Bellanca Super Viking.

The Plaza of San Burenaventura, now called the Plaza del Cerro was built around 1740. It is the last surviving Spanish fortified plaza in the southwest. It consists of a square of contiguous adobe buildings with only two entrances.
A torreon, or defensive watch tower, stands on the south side, while a small chapel sits on the western side. The acequia madre, or main irrigation ditch, the heartbeat of every northern New Mexico rural area, runs through the plaza.
Believed to be built on sacred earth with miraculous healing powers, the legendary shrine El Santuario de Chimayó, is probably the most visited church in New Mexico.
The crucifix which began the original shrine still resides on the chapel alter, but for some reason its curative powers have been overshadowed by El Posito, the "sacred sand pit" from which it sprang.
Each year during Holy Week thousands of people make a pilgrimage to Chimayó to visit the Santuario and take away a bit of the sacred dirt. Pilgrims walk a few yards or a hundred miles. Many claim to have been cured there of diseases, infirmities and unhappiness.
The walls of the sacristy are hung with discarded crutches and before-and-after photographs as evidence of the healing.
Seems like all the camera's got put away after Friday nights arrival and we have no pictures of people who arrived the next day. Sorry...
The wife's seemed to have a better time than the men. Shopping until they dropped every day, horse back riding then meet us for dinner at one of Santa Fe's best restaurants.