| | |
| --- | --- |
| | Welcome to 160knots.com ! |
| | | |
| --- | --- | --- |
| | Flying into San Diego city airports. KSAN, KMYF, KSDM and KSEE | |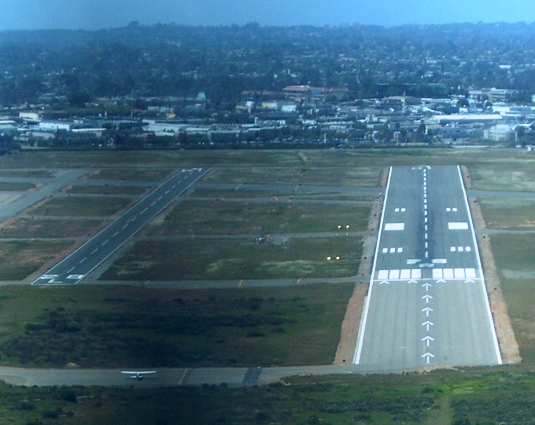 Final approach into Montgomery Field
Best time of the year to go?
Great climate, anytime is the time to go.
Flight time in a Super Viking from KAJO?
35 to 45 minutes depending on the airport.
Food on the airport?
Yes at KMYF, KSDM and KSAN
Fuel on airport?
Yes, all
Comments about arriving and departing
Depending on the airport there is a lot of class Bravo to deal with. Best to file IFR if you can.
Rate this trip
10 being best, 5 being average.
Depending of the airport a 6.0 to a 8.0.
| | | |
| --- | --- | --- |
| | Which San Diego city airport to use? | |
The answer is not as obvious as it may seem. (If you want the answer only skip down to KSAN.)
San Diego Municipal KSDM: I'll always have a soft spot for this airport. On September 10, 1972 I had my first solo there in a Cessna 150 rented from Flying J Aviation, N6246S. I was a Junior at Hilltop High School in Chula Vista (class of 1974). The new control tower was being built and the biggest thing on the field was a B-25. There were no corporate aircraft and other than the old wooden navy buildings there were no hangers. Most of the traffic on the airport belonged to the Japan Air Lines school who had a fleet of Arrows and Aztecs. JAL did a lot of touch and go's with a YS-11 (looks like a Convair-580) but I have no idea where they kept it. Other than that there were 3 or 4 active flight schools on the field, each used the old 2 story wooden buildings left from the Navy for offices. In those days just getting to the airport on the Mesa was an adventure. There was nothing else on the Mesa except and old race track. and a two lane road.
Today there is a border crossing on the mesa and several warehouses for items crossing the border. KSDM has several jets based on the airport and hangers are built 'without planning' on the ramp. If you fly across the border KSDM is a great place to stop for customs. In front of the east side of the terminal there is a box that clearly marked for customs. Don't leave the box until they clear you! There is a rather large restaurant located in the old terminal. It's a 1/2 bar 1/2 restaurant kind of place. The food is about average for a General Aviation airport.
Gillespie Field KSEE: Busy airport with several active FBO's. The Gillespie Field Cafe parking is just NW of the tower, south of 27L/9R and just west of 17/35, at the east end of a row of old business hangers and buildings. Food not great, not cheap and the hours are short; they close at 3:00pm. However I have seen an FBO, Golden State, driving around in a golf cart giving out free Coffee and Donuts on Saturday. Gas and all other services available.
Montgomery Field KMYF: A busy airport with three runways. Taxi access to Old Town San Diego. There are two good restaurants on the airport.
You can taxi up to the Casa Machado Mexican restaurant which is located above the terminal. The food ranks about a 6, nothing special but you can eat while admiring your plane.
On the northwest corner of the airport you will find the 94th Aero Squadron which is a Prime Rib and Sea Food type of place. There is a place to park in front of the 94th Aero Squadron but the ramp is in very bad condition and I won't use it again, what a shame they don't improve this area. Park near an FBO and walk to the place instead. I'll give this place a 8.5.
San Diego Lindbergh Field KSAN: In my opinion this is the destination airport for a day in San Diego. Mix it up with the air carriers, pay $25 to Jim's Air for parking, it's worth it. Walk across the street and up the hill 1/2 a block to the trolley station. Buy an all day pass for $5 and do the town. The trolley goes to several parts of San Diego including Old Town, Downtown, The Gas Light District, Little Italy, Sea Port Village and all to way south to Tijuana and points between.
When landing at Lindberg keep your speed up on final then get off the runway. After departure make you turn out as soon as possible, they have only one runway. Watch for wake turbulence as you'll as you'll be mixing it up with several models of heavy jets. Fuel is available but it's about $1.50 higher than other airports.
| | |
| --- | --- |
| | Mission Bay |
| | Torrey Pines |