| | |
| --- | --- |
| | Welcome to 160knots.com ! |
| | | |
| --- | --- | --- |
| | Flying into Rosamond California ! | |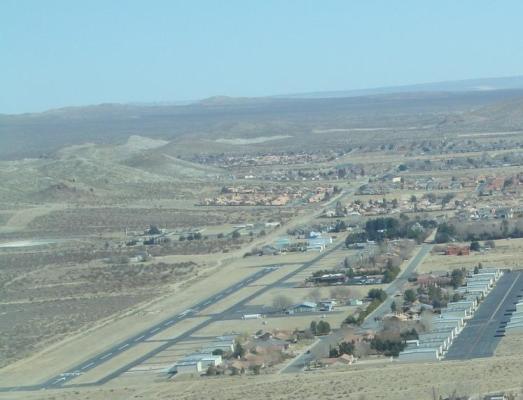 Best time of the year to go?
All year but, it's hot in the summer!
Flight time in a Super Viking from KAJO?
0.6
Food on the airport?
Yes, nice place with good food!
Fuel on airport?
Yes, average price
Comments about arriving and departing
Right traffic for Runway 7. Edwards AFB Restricted Area is near.
Rate this trip
10 being best, 5 being average.
An 8! Nice airport in the middle of the Mojave Desert with Good Food.
| | | |
| --- | --- | --- |
| | | |
| | | |
| | | |
| | | |
| --- | --- | --- |
| | Rosamond Skypark is a Gem in the Desert | |
Iíve heard about an airport in the desert called Rosamond Skypark but never gave it a second thought. I also heard Rosamond had a 'good restaurant' on the airport. Pilots are so happy to find food at an airport where eating doesnít require vending machines that we call everything a 'good restaurant'. I filed it away for the day I was looking for a new flying destination.
That day finally came......
Before departing Corona Airport I put L00 in the GPS and set course over the mountains and though the turbulence to the Mojave Desert. Iíve been to several airports in the desert. Most of them are surrounded by failed dreams, broken down cars and airplanes in long term storage.
The City of Rosamond sits on the southwest corner of the Edwards AFB restricted airspace. The joy of flying over the Mojave Desert is unlimited visibility as you can usually see 100 miles in every direction. You do see some pretty weird stuff from the air especially around Edwards. I donít want to say anymore or the CIA will be knocking on my door.
Surprise, surprise, surprise!
The first surprise came when I entered downwind and saw a lot of new construction below us. Big, nice, new homes with wide taxiways right to the homes. Turning base to runway 7 one has a clear view of the old Tropico Gold Mine. Old gold mines seen in the desert are often someoneís failed dream but the Tropico was a large profitable mine in its day. The Tropico is still making history as it has appeared in many Hollywood movies.
The second surprise came when I turned final. A nice well maintained airport appeared in the windscreen. The runway is lighted with a recent slurry seal coat and is freshly striped. The taxiways are in like condition with plenty of parking. Clearly the airport and surrounding homes are part of a master planed community.
Surprise number three came when I found the Golden Cantina Restaurant which is housed in a fairly new and well maintained building. The Golden Cantina has it own transit parking area right in front of the glass which looks over the runway and ramp area. The Cantina also has a patio but it wasnít open during our visit. Sunday Brunch was just starting and what a nice buffet they had plus an omelet and waffle bar.
What a pleasant surprise this airport and restaurant turned out to be and we plan to return soon. The Rosamond Skypark is within a hour of all LA area airports and would be a good place to take your non-pilot friends for a meal.
Links and pictures below:
| | |
| --- | --- |
| | The sign says it all! |
| | The Tropico Gold Mine as seen from the Golden Cantina |
| | The Tropico Gold Mine as seen from base leg runway 7 |
| | The Golden Cantina Restaurant |
| | Parking for the Golden Cantina Restaurant |
| | Rosamond Airpark as seen from base leg runway 7 |
| | Rosamond Airpark as seen from the downwind leg. |
| | Homes at Rosamond Airpark. |
| | Homes at Rosamond Airpark. |
| | Homes at Rosamond Airpark. |
| | Hanger row behind the homes at Rosamond Airpark. |