| | |
| --- | --- |
| | Welcome to 160knots.com ! |
| | | |
| --- | --- | --- |
| | Flying into Quincy California ! | |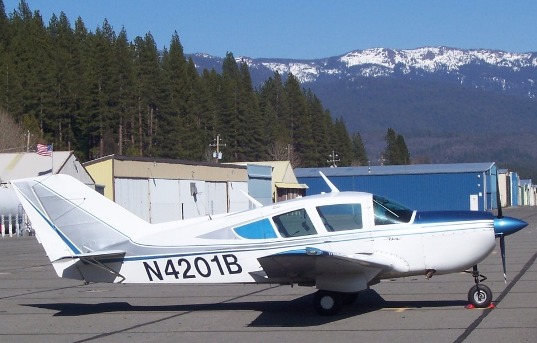 N4201B on the ramp at Gansner Field, Quincy CA.
Best time of the year to go?
Anytime! Spring is nice with green grass and snow in the surrounding mountains.
Flight time in a Super Viking from KAJO?
3.0
Food on the airport?
No, several places within a 15 minute walk.
Fuel on airport?
Yes, good price too!
Landing or Handling fees?
No
Comments about arriving and departing.
~Keep some altitude over the mountains.
~Watch the MOA to the west.
~On base leg for rwy 24 you'll loose sight of the airport when you pass behind a hill (aka east coast mountain).
Things to do at or near the airport.
Walk to town. I'd love to live in a place like this!
Rate this stop with 10 being best, 5 average.
8.0 - Several eateries within walking distance. The valley is very pretty.
| | | |
| --- | --- | --- |
| | | |
| | | |
| | Click above for video | |

| | | |
| --- | --- | --- |
| | | |
| | | |
| | Click above for map | |
| | | |
| --- | --- | --- |
| | The Home of Bellanca N4201B | |
Jonathan Hull of San Carlos emailed me. He saw my Shoshone page, made the trip himself and enjoyed it. I asked him to respond in kind with a little known NorCal destination. He told me about Quincy and I put it on my list.
I was on a tight schedule that day and only had 90 minutes to fuel up, eat and be back in the air. Too bad because I could have easily spent a 1/2 day in Quincy.
Town is an easy walk from the airport. A wide paved path over a trout stream right into small town America. Resist the urge to stop at the first eatery because I'll bet you have a Subway Sandwich store near your home. Walk farther into town and you find several places to eat. After 2:00 on Saturday the town seems to shut down so my choices were limited, I picked the pizza place and had a home made calzone which was pretty good.
Use your mountain flying skills when approaching and departing Quincy, altitude is your friend. Departing I did a lap around the valley to gain some altitude before heading north over the high terrain.
Expect this page to be updated because I'll be back.
| | | |
| --- | --- | --- |
| | Welcome to 160knots.com ! | |
| | |
| --- | --- |
| | |
| | A very pretty valley. This picture was taken from south of the airport. The City of Quincy is to the right of airport. The hill in the upper right blocks your view of the airport when on left base to rwy 24. |