| | |
| --- | --- |
| | Welcome to 160knots.com ! |
| | | |
| --- | --- | --- |
| | Plainview TX ~ KPVW | |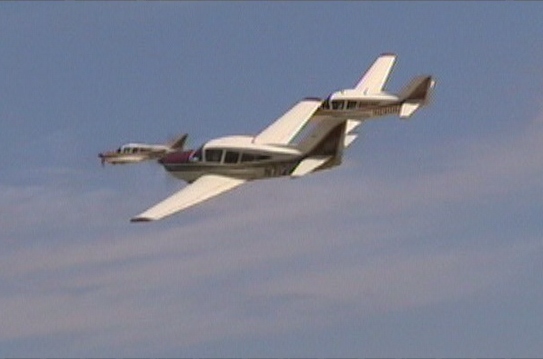 Frame taken from video of Miller 2006 BBQ Bash
Best time of the year to go?
Anytime
Flight time in a Super Viking from KAJO?
5.7 flight time with a stop for fuel
Food on the airport?
No
Fuel on airport?
Yes, cheep on the west side of the airport.
Comments about arriving and departing
Any and all runways may be active.
Rate this trip
10 being best, 5 being average.
7.0 this is old home week for me.
| | | |
| --- | --- | --- |
| | | |
| | | |
| | | |


Three videos of
Millers BBQ Bash
2006

En-route ~ Canyon Run ~ BBQ

| | | |
| --- | --- | --- |
| | Flying into Plainview TX and Millers Flying Service ! | |
I was first introduced to Miller's Fling Service and Plainview Texas on July 14, 1978 when a Super Viking owner, Clifton Flash Gordon (N39835), had me fly his Viking to Miller's for an oil change. While there James Miller offered me a demo ride in a brand new 1978 Super Viking. I was unaware of the demo's James typically did.
James put me in the left seat and we took off climbed out while James explained how strong the wing was. James called for the airplane and pretty soon the sky was in the bottom of the windshield and the earth in the top. After a couple of those we went from rolls to loops. James was very smooth on the controls and we never pulled more than 1.5 G's. I was pretty impressed! After landing Flash was standing on the porch laughing, he knew about James' "demo rides". At the time I was a 23 year old Sgt at Altus AFB making about $550 a month, not near enough to buy a new plane, why James took the time to give me a demo ride was beyond me but I sure appreciated it and always remembered it.
I made a couple of more trips to Plainview but the following year my tour was up and I moved back to California and never touched a Bellanca again. In 2004 I was looking for a plane to purchase and found myself, where else, but at Miller's Flying Service. James had passed but Marlin was still there as were some of the mechanics from 1978. Talk about a long time to get a return on a demo flight? Twenty six years! The place still looked the same but now the tower was closed.
Making a long story short I didn't buy from Miller's but returned twice in 2005 with the Super Viking I purchased on the east coast and again for the 2006 BBQ Bash.
Mystery: I've always wondered who's Super Viking I flew that day. It would have been on the ramp at Miller's on July 14, 1978, with less than 10 hours total time. It was blue and white outside and dark blue inside. The buyer had put some extra money into the plane and it had a real nice panel. Drop me a note if you think you know the plane. The N number in my logbook is incorrect.
The following pictures are from the 2006 Miller BBQ Bash and Fly-In!
Jim and Sami Glass. Winner of the Best Low Pass.

Photo by Ron Quillin

Sharon Gifford and Jim Potts

Photo by Ron Quillin

Photo by Ron Quillin

Bill Coit (left) and Ed Connell

Photo by Ron Quillin

Doug Blue (grey cap) James Oden (yellow cap)

Photo by Ron Quillin

Doug Blue (grey cap), James Oden (yellow cap) Charles Stoop (white cap)

Photo by Ron Quillin

Photo by Ron Quillin

Photo by Ron Quillin

Photo by Ron Quillin

Photo by Ron Quillin

Randy Reed and Demita Crawford

Photo by Ron Quillin

Chris Cook (white shirt) Winner of The Best Landing Award with Justin Scarrow.

Photo by Ron Quillin

The Stanfield Clain. Donna (mom) Wes (dad) Daniel (standing) then L to R Elizabeth, Becka and Rachel. Donna donated her time to make the bent prop award.

Photo by Ron Quillin

Randy Reed (white shirt), Marlin Miller (plaid shirt), Frank Holbert (blue hat)

Photo by Ron Quillin

Left to right Nichole Pyle, David Pyle, Victor Catalanotto, Gib Akers, and Randy Erwin

Photo by Ron Quillin

Photo by Ron Quillin

Photo by Ron Quillin

Photo by Ron Quillin

Photo by Ron Quillin

Photo by Ron Quillin

Dean Crawford (red shirt) Marge Mitchell (seated in dress)

Photo by Ron Quillin

Everett Bishop (Fire Chief) and Cody's dad (nameless).

Photo by Ron Quillin

Rolf Sherman (white cap), Mark Thompson (green shirt), Justin Foster (red shirt).

Photo by Ron Quillin

The food was so good I'm getting hungry looking at these pictures.

Photo by Ron Quillin

Gilmer Mickey (center)

Photo by Ron Quillin

James Gryder (light blue shirt) Jo Ann Gryder, Victor Catalanotto, Carol Kern (blue hat).

Photo by Ron Quillin

Jon Stanfield, Miller Mechanic, and his home made Margarita machine.

Photo by Ron Quillin

Photo by Ron Quillin

Photo by Ron Quillin

Cody Williams

Photo by Ron Quillin

Photo by Ron Quillin

Photo by Ron Quillin

Photo by Ron Quillin

Photo by Ron Quillin
| | |
| --- | --- |
| | The following pictures were taken during my September 2005 annual. |
| | Never know what you'll see in the Texas Panhandle. |
| | The wood and paint shop at Millers. |
| | |