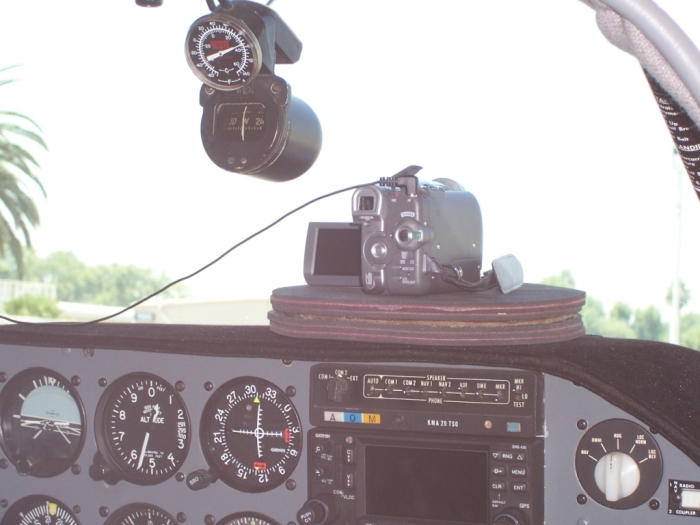 Click on image above for Video on making a Video
I answer a lot of email about how I shoot my videos to where I host my site. I have simply listed the typical questions I get below with the answers. Feel free to email me any other questions you may have. Click here for a short video I made on this subject!
What model video camera do you use?
A Cannon Elura 100. I bought the camera for use on the airplane with video uploads to the internet only. My requirements were as follows.
I needed an input for audio because I wanted to tie the camera into the intercom. I was surprised this requirement eliminated more than half the video camera's on the market. None of the Sony models tested by Consumer Reports had this feature.

I wanted as much zoom as possible. Few cameras have more than 10x zoom. The Elura 100 is 20x.

The camera must have a stabilizer built in. Great feature for an airplane and it works very well.
I shopped on eBay for a camera making bids on several until I scored a good deal. Be careful however, there is a lot of fraud in eBay electronics.
How do you tie the intercom into the camera?
I tried a straight cable coming off a back seat intercom jack but the electrical hum was really high (Columbia Video). I find my Sporty's cell phone adapter works best however, the switch for battery power must be off for it to work.
What editing software do you use?
Pinnacle Studio is really a simply package to use and the price is right. I also purchased Avvid Liquid ($800) but it's just too hard to use,
Do you encode in Real using your Production software, or do you use Real to encode outside the production software? If outside, what format do you save out of the production software, and how big are those files?
With Pinnacle, after I edit the movie and click on Make Movie I have the option of several formats.
Why is your propeller not as visible as other videos I see?
Beats me? I assume it was something with frames per second but, I've never changed anything. Three bladed prop?
Do you host your own, or pay for space?
I use http://hostgater.com . One of the faster hosting providers I found. There up time is pretty high and their prices cheap! I pay for my plans 3 years in advance for the best price.
Rule 1, NEVER host your own space!
Get a REAL Domain name and buy it though the hosting company so they make changes when a server is relocated. Other wise you have to work with network solutions for the DNS change.
Donít use a windows server. They have issues and attacks are always directed towards them.
Donít put your email address where spiders can find it.