| | |
| --- | --- |
| | Welcome to 160knots.com ! |
| | | |
| --- | --- | --- |
| | Flying into Lake County Airport, Leadville Colorado! | |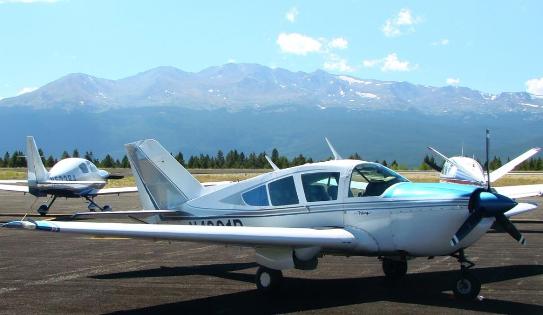 N4201B on the ramp at Lake County Airport, Leadville Colorado, elevation 9927' MSL.
| | |
| --- | --- |
| Best time of the year to go? | Spring though Fall. Not sure about winter? |
| Food on the airport? | No |
| Fuel on airport? | Yes, this is the only FBO I've seen to discourage a fuel purchase. |
| Landing or Parking fees? | No landing fee |
| Comments about arriving and departing. | Check density altitude. |
| Things to do at or near the airport. | Not much on the airport but a lot of things to do in town. Ask Deborah at the FBO for a certificate! |
| Rate this stop with 10 being best, 5 average. | 9.5, go to town, it's an outstanding stop! |
| AirNav | Leadville Airport Website |
| | | |
| --- | --- | --- |
| | | |
| | | |
| | Click above for larger picture | |

| | | |
| --- | --- | --- |
| | | |
| | | |
| | Click above for map | |
| | | |
| --- | --- | --- |
| | Go to town and see Leadville! | |
Many pilots land at Lake County Airport but few see the town and they are really missing something. Leadville Colorado is the highest incorporated city in North America at an elevation of 10,152 above sea level. Being an old mining town it has several historic places to stay, eat and sights to see. The surrounding mountains are spectacular. We spent about 4 hours in town and it just wetted my appetite for more. There are a couple of airport cars, Dan Jensen said they have never turned a pilot down when a car is available.

Other than density altitude Lake County airport is pretty simple airport to get in and out of. Both ends of the runway drop off with a slight turn. To the south is a nice valley with plenty of areas for an off airport landing in the unlikely event it becomes necessary.

I'm not a CFI but I do have a lot landings and takeoffs at high altitude airports and I do respect density altitude. I've seen some Stupid Pilot Tricks at both Big Bear Airport (6,750') and Mammoth Airport (7,127'). I have my own set of rules. Use some common sense when using this airport:
Do not go full rich when landing in case you need to go around.
A go around at high altitude can be really tricky, watch your flaps and airspeed.
Indicated airspeed is indicated airspeed. DO NOT carry extra speed on final. Who started that rumor?
You won't find a chart in most POH's that will calculate a departure at or above 10,000'. If the DA is 13,000 and your service ceiling is 12,000...
Depart with a minimum of weight.
Cooler temperatures in the morning equal a lower density altitude.
Lean the engine for best power before takeoff per your POH.
Make a short field takeoff, DO NOT lift the nose before having flying speed.
Stay in ground effect while building airspeed. This is a big one!
One last thing unique to Leadville. If you live at lower altitudes like I do, think about using o2 as soon as you buckle in to clear your head before departure.
Again, I'm not a CFI but the above works for me.

| | | |
| --- | --- | --- |
| | Pictures taken flying to and at Leadville Colorado! | |
| | |
| --- | --- |
| | Over flying Gunnison Colorado |
| | Over flying Central Colorado Regional Airport, Buena Vista, Colorado. This is the valley to the south of Leadville. |
| | Enroute to Leadville Colorado. We had to spend about 15 minutes at 13,500 to get over some weather. Not a big deal without using o2 normally however, hiking around Leadville after that I found myself a little hypoxic. Blurred vision and some trouble concentrating. Some deep breathing cleared my head. |
| | Enroute to Leadville Colorado from the south. Looks bad but we are over a wide flat valley floor. |
| | Enroute to Leadville. |
| | Final approach to runway 16 at Lake County Airport, Leadville CO. |
| | On the runway there are three yellow lines dividing the runway with each section being about 1600' long. Make sure and use these lines to your advantage. In the picture you can see one of these lines going under the nose. |
| | Downtown Leadville CO |
| | Downtown Leadville CO |
| | The National Mining Hall of Fame and Museum is located in the old Leadville High School. Our airport car is in the center of this picture. |
| | Leadville from east of town on the way back from the Matchless Mine |
| | Horace Tabor made (and lost) a fortune from silver mines during Leadville, Coloradoís boom days, becoming one of the most famous of the Colorado Silver Kings. Although Taborís first silver discovery wasnít the Matchless Mine, itís story remains as one of the most famous documented stories about the Silver King mines in the entire country. |
| | The Matchless Mine |
| | The Matchless Mine |
| | The Mineral Belt Trail is a 11.6 mile all-season non-motorized ADA accessible route with numerous trailheads and access points. Approximately six miles of this trail meanders through the historic Leadville Mining District. It offers unsurpassed views of the Sawatch and Mosquito ranges. |
| | The Mineral Belt Trail is not for the faint of heart. From what I saw no part of it's below 10,000'. |
| | On my next trip to Leadville I want to ride the Leadville, Colorado & Southern Railroad. Just wasn't time on this trip. |
| | The Golden Burro is a good place to eat in Downtown Leadville. When you order keep your menu and read about the history of Leadville. |
| | Getting a Certificate of Pilotage after landing at Lake County Airport is only for rookies but Adrienne made me pose for this picture. Deborah is the FBO manager and was more than happy to loan us an airport car. Caution, there's a reason the cat is named Nipper! |
| | Proof I was there! |