| | |
| --- | --- |
| | Welcome to 160knots.com ! |
| | | |
| --- | --- | --- |
| | Flying into Kern Valley Airport ! | |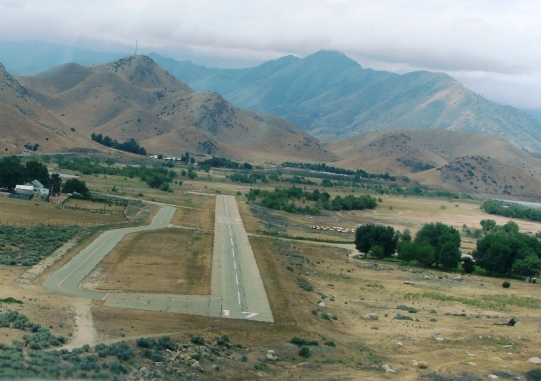 Turning final into Kern Valley Airport. Airport camping to the right in the trees.
| | |
| --- | --- |
| Best time of the year to go? | All year |
| Flight time in a Super Viking from KAJO? | 0.9 |
| Food on the airport? | Yes, not much for looks but the food is very good. |
| Fuel on airport? | No, Not any more |
| Landing or Parking fees? | No |
| Comments about arriving and departing. | All patterns to the west. |
| Things to do at or near the airport. | Eat on the airport or rent a car from the cafe for a ride to Kernville. |
| Rate this stop with 10 being best, 5 average. | 8.5, visit Kernville. |
| | | |
| --- | --- | --- |
| | | |
| | | |
| | Click above for video | |

| | | |
| --- | --- | --- |
| | | |
| | | |
| | Click above for map | |
| | | |
| --- | --- | --- |
| | Visiting Kernville! | |
Park in transit parking right next to the Kern Valley Airport Cafe. The Cafe is a little rustic but the food is very good and large portions are served. It's known for it burgers but I find breakfast is really good. I enjoy eating outside on the covered patio overlooking the Kern Valley. Rent a car from your waitress (pilots only) and just a few miles up the road is Kernville where one can easily spend the entire day.
You can also park your plane at the camp ground and pitch a tent next to the Kern River. The tree covered camp ground is large with bathrooms, a shower and has paved tie downs for 12 aircraft at the camp ground.
Kernville has a large tourist industry centered on the white water rapids of the Kern River. While white water rafting is the main attraction, one can also enjoy mountain biking, rock climbing, and other outdoor activities. Fly fishing is also popular; in particular, the golden trout is highly sought after. Downtown Kernville has an old west look and contains a number of restaurants, antique shops and motels.
The Kern River, Kernville and the Kern Valley occupy were named after artist Edward Kern, who camped at what was a fork of two rivers, now the middle of Lake Isabella. An 1848 gold rush led to the formation of a town called Rogersville, which was later renamed Whiskey Flat after the introduction of bars. In 1861, the town was renamed Kernville.
After decades of planning, the Isabella Dam project began in 1948. As a result, Kernville was moved upstream to its present location at the tip of the northeast fork of the man-made lake. The town has since continued to maintain its gold rush and old west roots to attract tourists and take advantage of nearby natural scenery and activities.

| | | |
| --- | --- | --- |
| | Pictures of our trip and the Kern Valley ! | |
| | |
| --- | --- |
| | A couple of pictures of crossing the ridge line near Mt. Baldy. |
| | A couple of pictures of crossing the ridge line near Mt. Baldy. |
| | N4201B parked on the ramp. Notice the weather moving in. |
| | Airport camping is on the west side of the airport away from the hustle of the FBO, Cafe and fuel island. |
| | Airport camping. |
| | I don't know, I like to camp at the Marriott. |
| | The Kern River next to the airport campground. |
| | The Airport Cafe, a BD-5 on a stick serves at the tetrahedron. |
| | Our rental car. Not new but it's maintained, at $20 a day and $.30 a mile who's complaining? |
| | White water rafting trips down the Kern River. Several places in town for this activity. Below the BD-5 there is a sign for a rafting company that will pick you up at the airport. |
| | White water rafting trips down the Kern River. |
| | Fishing the river above the lake. |
| | Downtown Kernville is a 5 mile drive from the airport. Worth the visit. |