| | |
| --- | --- |
| | Welcome to 160knots.com ! |
| | | |
| --- | --- | --- |
| | Flying into Havasu City Airport ! | |
| | |
| --- | --- |
| Best time of the year to go? | I like Fall though Spring when it's cooler. |
| Flight time in a Super Viking from KAJO? | 1.2 |
| Food on the airport? | Yes, Waldo's BBQ is very good |
| Fuel on airport? | Yes, good price |
| Landing or Handling fees? | No |
| Comments about arriving and departing. | Pretty standard, keep your downwind in the state of Arizona. |
| Things to do at or near the airport. | Eat at the airport or take a car down to the London Bridge area. |
| Rate this stop with 10 being best, 5 average. | An 8.0 even if you never leave the airport. Good food, good fuel prices and Desert Skies is a great FBO. |
| | | |
| --- | --- | --- |
| | | |
| | | |
| | Click above for video | |

| | | |
| --- | --- | --- |
| | | |
| | | |
| | Click above for map | |
| | | |
| --- | --- | --- |
| | Stopping at Havasu City Airport! | |

Like so many, Havasu Airport was built in1942 starting out as a WW2 training field. Known as Lake Havasu Auxiliary Army Airfield #6 it was located near where the London Bridge is now, on a peninsula of land that juts out into the lake. In 1945 the airport was declared surplus and reverted to civilian use. More about the original airport can be found Abandoned & Little-Known Airfields. The airport continued to operate on the peninsula until 1991 when the city built a new airport and closed Auxiliary Airfield #6.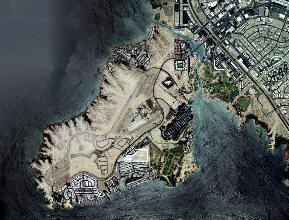 I've never understood why the old airport location has and never been developed. It's prime real estate surrounded on three sides by water and the entrance to the area is across the famous London Bridge.
The new Havasu City Airport has a 8000' runway and three modern FBO's. It used to be located well north of the town but like the movie Field Of Dreams, if you build it they will come, the City of Havasu is building towards the airport.
In the past the new Havasu City Airport has lacked a good place to eat unless you take a car to town. Last Friday (11/13/09) that changed. Waldo's BBQ has opened up a restaurant in the same building as Desert Skies Aviation. Waldo's is a fun place with good BBQ. Waldo's has an Aviation Sports Bar theme and is a very comfortable place with TV's, a fireplace, couches and over stuffed chairs. You can sit in a living room setting and enjoy your dinner. If you like BBQ give this place a try, you won't be disappointed.
Don't like BBQ? Take a car to town. There are several places to eat on the lake. I've been to Barley Bros Restaurant and Brewery which overlooks the London Bridge and found it very good. Barley Brothers is a 5 mile drive from the airport.
While you are eating have Desert Skies top off your fuel tanks. Their prices are very competitive. I know from personal experience if you have a fly-in and call ahead they will discount the fuel for your entire group.
| | | |
| --- | --- | --- |
| | Pictures From Our Trip ! | |
| | |
| --- | --- |
| | Bellanca Super Viking N4201B on the ramp at Havasu City Airport |
| | Desert Skies Jet Center and Waldo's Texas Style BBQ. Desert Skies usually has the best fuel prices in Havasu. |
| | Inside Waldo's Texas Style BBQ |
| | Turning crosswind from runway 32 overflying the Colorado River as it enters Lake Havasu. |
| | The Mojave Desert |
| | Shooting pictures while crossing the Mojave Desert |
| | Cardinal N34528 |
| | Flying across the Mojave Desert |
| | I really like this picture. Small airplane, big desert. |
| | Thanks Marshal Whatley, great pictures |