| | |
| --- | --- |
| | Welcome to 160knots.com ! |
| | | |
| --- | --- | --- |
| | Flying into Greeley (KGXY) ! | |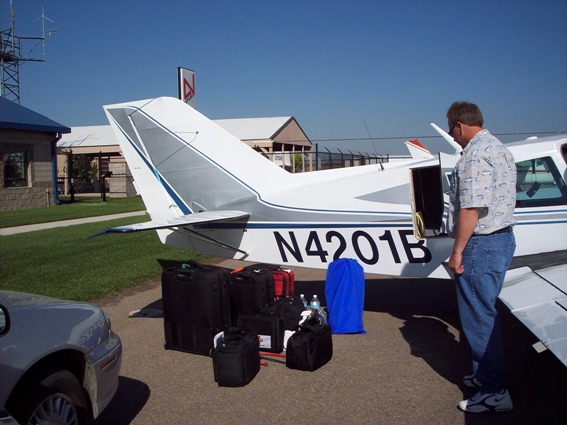 Loading plane in Greeley Colorado. Yes, all but the flight bag fit into luggage compartment.
Best time of the year to go?
Clearly not the winter
Flight time in a Super Viking from KAJO?
With one stop 6.2 hours of flight time
Food on the airport?
Yes, Barnstormer's is located in the terminal. Popular place for pilots.
Fuel on airport?
Yes, cheep
Comments about arriving and departing
Nothing, very nice airport. Great FBO
Rate this trip
10 being best, 5 being average.
8.5
| | | |
| --- | --- | --- |
| | Corona California to Greeley Colorado | |
This flight required two legs. The first leg from Corona California (KAJO) to Farmington New Mexico (KFMN). Then Farmington to Greeley passing though the La Veta pass then skirting Denver to the east to avoid several thunderstorms.
Two FBO's really stood out on this trip.
At Farmington NM we choose Bisti Aviation. Not only was the fuel A LOT cheaper but the service was outstanding. Were were given a crew car and directions to a good restaurant. I used their pilots lounge phone to call ahead to Greeley and set up a hanger and rental car. Returning to our aircraft the line staff stood by until we were off the ramp an onto the taxiway.
At Greeley, our destination for 4 nights, we were directed to parking right next to our rental car. Thunderstorms were approaching and the Bellanca was promptly moved to a hanger for the duration of our stay. Peak Flight Support has a great facility and I was happy I used them. There fuel was about $.50 a gallon cheaper than the other Denver area airports.
My wife and I judged an AKC Retriever Hunting Test for the Colorado Woman's Retriever Club over the weekend. We planed a leisurely breakfast Monday and a noon departure for Yellowstone. Stop in Jackson Hole for a late lunch then on to Yellowstone. However, on the way to breakfast I called FSS and they advised that Yellowstone was going IFR in the early afternoon and would stay that way for three days. "If your going you need to go now!" We dashed to the airport quickly added more fuel to make Yellowstone and departed fully loaded at max weight, 4700' elevation, 75 degree temperature, and a 10,000 foot runway... I think I wore out a set of tires the departure roll was so long.
| | |
| --- | --- |
| | Pictures of grand canyon taken from 11,500 |
| | Pictures of grand canyon taken from 11,500 |
| | Pictures of grand canyon taken from 11,500 |
| | Dodging thunderstorms and entering the La Veta pass from the west at 13,500. |
| | Crossing the Continental Divide via the La Veta Pass level 13,500. |