| | |
| --- | --- |
| | Welcome to 160knots.com ! |
| | | |
| --- | --- | --- |
| | Flying into Calexico | |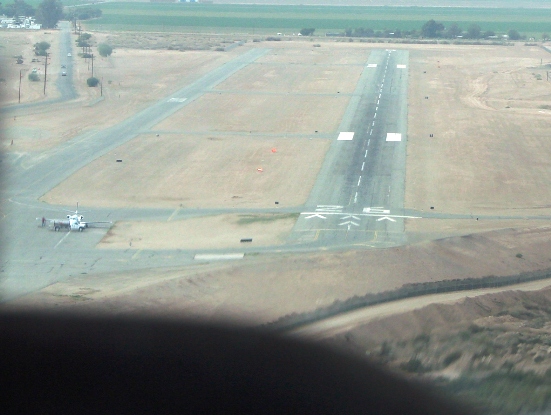 Final into the Calexico Airport
Best time of the year to go?
Fall though Spring. Not only does this area got hot in the summer it gets very humid.
Flight time in a Super Viking from KAJO?
1.0
Food on the airport?
Yes
Fuel on airport?
Yes
Comments about arriving and departing
Make right traffic for runway 26. Left traffic puts you over Mexico. Watch the MOA's and Restricted airspace north of the airport.
Rate this trip
10 being best, 5 being average.
6.0 other than eating at the airport there is not much to do.
| | | |
| --- | --- | --- |
| | | |
| | | |
| | | |
| | | |
| --- | --- | --- |
| | I know, why Calexico? | |
I've heard there is a authentic Mexican Restaurant on the Calexico airport but the weather was always too hot. This winter I put Calexico on the short list of places to go. Finding the airport was the hardest part, even with the GPS I really had a hard time picking it out.
Rosa's Plane Food was all It was cracked up to be. The place was busy and as soon a we sat down the waitress put a a very large bowl of chips on the table and about a quart of home made salsa for just the two of us. The menu is large so I simply asked for the favorite and ordered the beef enchilada plate. Adrienne ordered the chili rellenos. This is real Mexican food, don't expect sour cream and guacamole shot on your food with a caulking gun.
Just 10 minutes after sitting down two huge plates of food showed up. I'm sure my three enchiladas had a side of shredded beef stuffed in them. The enchilada sauce was clearly home made and excellent. Adrienne said her chili rellenos were the best she had ever eaten.
It was the Sunday after Thanksgiving and Customs was very busy with corporate jets coming and going as we ate. The jet setters were not real interested in authentic Mexican food and that was their loss.
| | | |
| --- | --- | --- |
| | Pictures from the Calexico trip. | |
| | |
| --- | --- |
| | Palomar Observatory |
| | Julian VOR. Looks like we almost lost this one in last years fire. |
| | At avoid the restricted areas and MOA's near the Salton Sea I doglegged at Kumba. This intersection appears on both VFR and IFR charts. |
| | The customs area in the foreground, the DMZ and then the border. |
| | Final runway 26. The jet in the left of the frame is sitting in the customs area. |
| | |
| | |