| | |
| --- | --- |
| | Welcome to 160knots.com ! |
| | | |
| --- | --- | --- |
| | Flying into Sierra Vista Arizona ! | |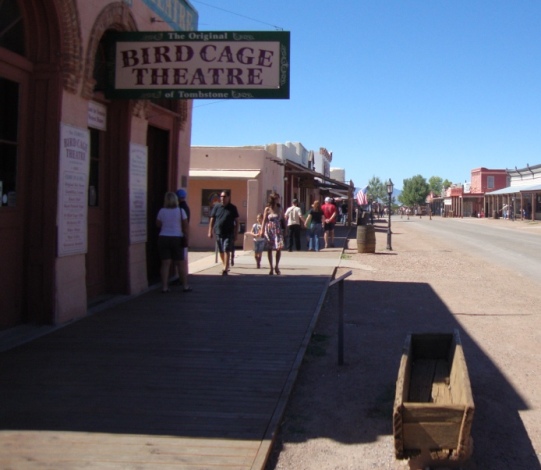 The Bird Cage Theatre in Tombstone Arizona
| | |
| --- | --- |
| Best time of the year to go? | Fall into Spring |
| Flight time in a Super Viking from KAJO? | 2.8 hours. |
| Food on the airport? | No |
| Fuel on airport? | Yes, good prices |
| Landing or Handling fees? | No |
| Comments about arriving and departing. | Airport is inside restricted airspace. |
| Things to do at or near the airport. | Lots but you'll need a rental car. |
| Rate this stop with 10 being best, 5 average. | 8.5 - Requires an overnight stay. |
| | | |
| --- | --- | --- |
| | | |
| | | |
| | Click above for video 405mb | |

| | | |
| --- | --- | --- |
| | | |
| | | |
| | Click above for map | |
| | | |
| --- | --- | --- |
| | Why Sierra Vista? | |
I've had this trip on my list for a couple of years now and finally found the time, found the time in the cooler months that is. There are several reasons I picked Sierra Vista over the other surrounding towns.
Sierra Vista has Marriott brand hotels and I have about a lot of Marriott points from my frequent flyer days.
Dollar rental car is in town and they deliver cars to the airport.
There are several places in Sierra Vista to eat. We were staying three days.
The Sierra Vista airport doubles as an Army Base. It does have a control tower and you may be sharing the pattern with a military UAV. The airport is very secure and I like that since my plane would be on the ramp for a couple days.
There are several hotels in Sierra Vista. Pick your favorite brand. Many of them are new, this is a growing area.
Dollar Rental Car gives a discount to those using the airport. Suggest you book directly with the local office vs on line. These guys gave us great service and the price was pretty good. Call them direct at 520-515-0000. This trip requires a car.
For dinning I always use Yelp but I was disappointed in The Mesquite Tree. Great service, average food. We had dinner one another night at The Outside Inn and were very happy. Both the service and the food were outstanding. If you like a quite place I suggest you try The Outside Inn.
What's there to do Sierra Vista?
Kartchner Caverns State Park is about 20 minutes north of town. This is a pretty amazing place and should not be missed. We liked it so much we plan on returning for the Big Room tour which was closed while bats raised their pups. Tour reservations are recommended.
The Copper Queen Mine and The City of Bisbee is a 30 minute drive southeast of Sierra Vista. The mine has played out and is open for tours. A train takes you about one mile into the mine. Along the way you make a couple of stops. Pretty interesting but this is not a Disneyland ride. Bring a coat and make a reservation.
The City of Tombstone is about 30 minutes by car northeast of Sierra Vista and you find a lot of history here. Suggest you do some internet reading ahead of time so you can appreciate what you're seeing. The whole place is pretty cheesy but it's worth a stop.
Ghost Towns surround this area and there are several to visit if you like to hike. Suggest you look at a couple of web sites since the information is not always accurate. Try this one and this one if a jeep tour sounds better.
| | | |
| --- | --- | --- |
| | Pictures from our trip ! | |
| | |
| --- | --- |
| | Getting there is half the fun. Lots of restricted airspace to navigate around. The Sierra Vista airport is also in restricted airspace. |
| | The town of Bisbee Arizona. Pretty little town, too bad the overhead wiring destroys the view. |
| | Bisbee again. This town supported several mines in the area. The Copper Queen being one of them. |
| | Loading up to take the Copper Queen mine tour. This is far from a Disneyland ride. |
| | Entering the Copper Queen mine |
| | Into the mine |
| | I had some camera problems on this tour so the pictures are limited. |
| | The mine foreman's office |
| | Tombstone Arizona. Worth a stop but it's a pretty cheesy place. |
| | The Tombstone stagecoach |
| | One of a couple of 'scheduled' gun fights in town. |
| | Our attempt to find a ghost town. We were looking for Charleston. We found Millville. This is Grids Mill, where Millville residents worked. |
| | More of Grids Mill. Millville where most of the mill workers and other 400+ residents lived, was founded in 1879. |
| | Millville was truly a ghost town by 1889. Abandoned after the Tombstone mines flooded in 1886. |
| | Founded to process ore taken from silver mines in Tombstone, Millville and Charleston boomed for less than ten years. |
| | Native American petroglyphs on the trail to Millville. |