| | |
| --- | --- |
| | Welcome to 160knots.com ! |
| | | |
| --- | --- | --- |
| | Flying into Santa Barbara | |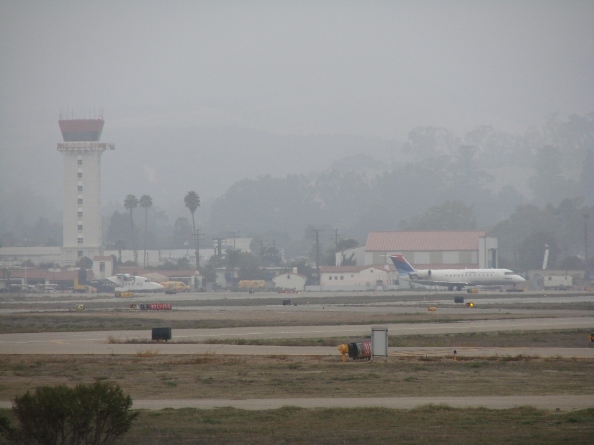 I would like to have a nice sunny picture for this page...
It never happens, at least not when I'm here.
Best time of the year to go?
All year
Flight time in a Super Viking from KAJO?
0.9
Food on the airport?
Both on and off the airport.
Fuel on airport?
Yes, top dollar!
Comments about arriving and departing
Parking is $20+ at both FBO's. They wave the fee with a fuel purchase. It's cheaper to pay the fee.
Rate this trip
10 being best, 5 being average.
8.0, great view in the pattern. Good food on the airport.



| | | |
| --- | --- | --- |
| | Santa Barbara Airport - Two FBO's, two places to eat. | |

Santa Barbara for Lunch or Dinner. As I see it you have two choices, unless you rent a car.
Park at Signature for $20+ and walk though the hanger and across the driveway to the Elephant Bar. The place really packs them in for Sunday Brunch so try to avoid the rush. Signature is on the far north east corner of the airport.

Park at Atlantic for $20+ and walk south down the bike trail, across the foot bridge, turn left at the Y and towards the pier. At the base of the pier there is a place called The Beachside. It's about a 1/2 mile. Atlantic is on the south southeast side of the airport.
Runway 7/25 separates the FBO's and restaurants so you need to have a plan before you land. The Elephant Bar is very good and the menu is unique but my first choice would be The Beachside Cafe.
| | | |
| --- | --- | --- |
| | Welcome to 160knots.com ! | |
| | |
| --- | --- |
| | The bike trail to The Beachside Cafe. |
| | |
| | The bike trail to The Beachside Cafe. |
| | Turn left at the Y. |
| | |
| | Don't park here! |
| | Don't even walk under that tree. |
| | The Beachside Cafe. |
| | The Beachside Cafe. |