| | |
| --- | --- |
| | Welcome to 160knots.com ! |
| | | |
| --- | --- | --- |
| | Flying into Mojave Spaceport ! | |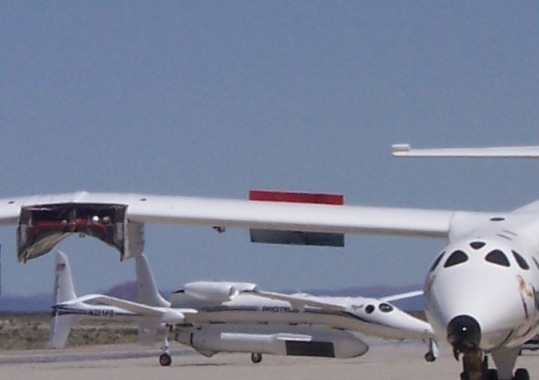 Scaled Composites' Proteus taxing in at Mojave Air and Spaceport
Best time of the year to go?
Fall though Spring
Flight time in a Super Viking from KAJO?
0.6
Food on the airport?
Yes, above average airport fare
Fuel on airport?
Yes
Comments about arriving and departing
Be careful of the restricted airspace surrounding Edwards AFB.
Rate this trip
10 being best, 5 being average.
8.0 Get a tour of the bone yard while you're there. Call the airport manager ahead of time.
| | | |
| --- | --- | --- |
| | | |
| | | |
| | | |
| | | |
| --- | --- | --- |
| | Landing at the Mojave Air and Spaceport ! | |
The Mojave Airport & Spaceport, also known as the Civilian Aerospace Test Center, is the first facility to be licensed in the United States for horizontal launches of reusable spacecraft, being certified as a spaceport by the Federal Aviation Administration on June 17, 2004. It is the only spaceport from which there have been privately-funded human spaceflights.
Besides being a general-use public airport, Mojave has three main areas of activity, flight testing, space industry development, and aircraft heavy maintenance and storage.
Beginning with the Rotary Rocket program, Mojave became a focus for small companies seeking a place to develop space access technologies. Mojave Spaceport has been a test site for several teams in the Ansari X Prize, most notably SpaceShipOne, which conducted the first privately funded human sub-orbital flight on June 21, 2004. Other groups based at the Mojave Spaceport include XCOR Aerospace, Masten Space Systems, Orbital Sciences Corporation, and Interorbital Systems.
The Mojave airport is also known as a storage location for commercial airliners. Numerous large Boeing, McDonnell Douglas, Lockheed, and Airbus aircraft owned by major airlines are stored at Mojave. Some aircraft reach the end of their useful lifetime and are scrapped at Mojave, while others are refurbished and returned to active service.
I would be lying if I didn't say this was my first spaceport landing.
| | | |
| --- | --- | --- |
| | Pictures from Mojave Airport | |
| | |
| --- | --- |
| | Scaled Composites White Knight Two. I took these pictures on the ramp at Mojave Air and Space Port. You never know what you're going to see at this airport. |
| | Model 339 SpaceShipTwo (SS2) in the Hangar |
| | PR picture, I didn't take this one. |
| | 747's in the bone yard. |
| | Other air carriers in the bone yard being stripped for parts. |
| | A very modified DC-9. Besides the nose note the antennas top and bottom. The plane is registered to the US Navy. |
| | |
| | Call the airport manager ahead of time and and arrange for a tour of the bone yard. |
| | |
| | One is never to good to fly a Cessna 150. Look up the N number and yes he was flying it. |
| | |