| | |
| --- | --- |
| | Welcome to 160knots.com ! |
| | | |
| --- | --- | --- |
| | Landing at Marble Canyon! | |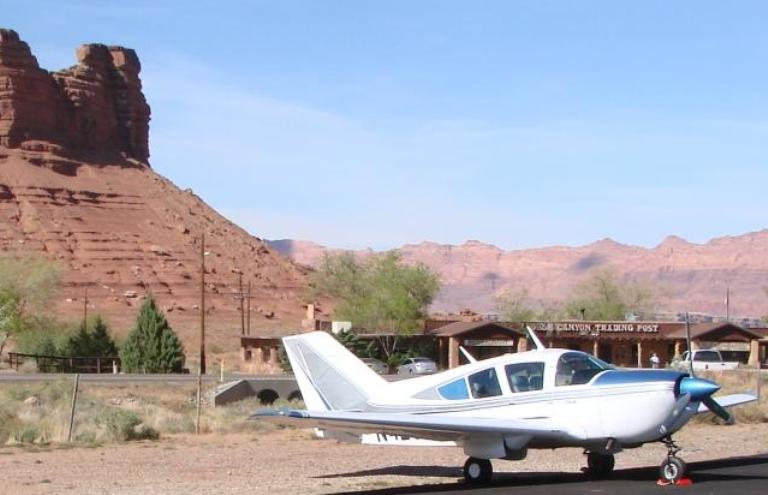 N4201B in front of the Marble Canyon Trading Post
Best time of the year to go?
Fall though Spring
Flight time in a Super Viking from KAJO?
2.0
Food on the airport?
Yes, walk across the street
Fuel on airport?
No
Comments about arriving and departing
Land to the north and depart to the south. Two humps in runway. Can't see other end. You are inside the Grand Canyon national park. Special Grand Canyon Sectional needed.
Rate this trip
10 being best, 5 being average.
Fun Trip! I'll give it a 7.0
| | | |
| --- | --- | --- |
| | | |
| | | |
| | | |
| | | |
| --- | --- | --- |
| | Marble Canyon Airport | |

Landing at the Marble Canyon Airport we found a bumpy but clean runway. The runway is only 35 feet wide and who ever painted the centerline had been out drinking the night before. Really hard drinking.

The parking area slopes downhill so be sure to secure you plane. There are no services at the airport.

The Marble Canyon Lodge sits on 160 acres of homesteaded land next to the Colorado River and inside the Grand Canyon Nation Park. Marble Canyon Lodge was first opened in mid 20's Across the street from the lodge is a privately owned, public use airport. One can simply taxi up, walk across the street and eat at the Trading Post.

Before eating walk down to the Historic Navajo Bridge where several California Condors live. We saw about six Condors in the 15 minutes we stood on the bridge. Cross the bridge to the other side where local Navajo's sell homemade jewelry.

Entering the Marble Canyon Lodge one is taken back in time. Little has changed at the lodge is the last 80+ years. The food was very good and we were real happy we made this stop.
| | | |
| --- | --- | --- |
| | Pictures from Marble Canyon | |
| | |
| --- | --- |
| | New Navajo Bridge in the foreground. Historic Navajo Bridge in the background. |
| | Can't help but wonder if the curve in the runway is counted as part of the overall length. |
| | Marble Canyon Trading Post and Restaurant . |
| | California Condors. |
| | California Condors. |
| | California Condors. |
| | The Colorado river as it passes under the New Navajo Bridge. |
| | Climbing out of Marble Canyon. |
| | Climbing out of Marble Canyon. |
| | Climbing out of Marble Canyon. |
| | Climbing out of Marble Canyon. |