| | |
| --- | --- |
| | Welcome to 160knots.com ! |
| | | |
| --- | --- | --- |
| | Flying into Mammoth CA | |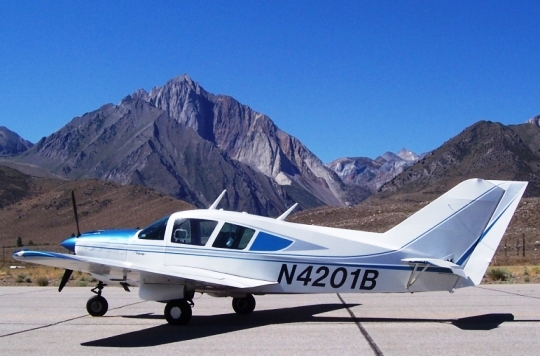 N4201B on the ramp at Mammoth Airport, field elevation 7126 MSL.
Best time of the year to go?
Different seasons bring different events. World class, skiing, trout fishing or hiking. Mammoth has it all!
Flight time in a Super Viking from KAJO?
1.8
Food on the airport?
No
Fuel on airport?
Yes but check the price before you go. Bishop is nearby and has pretty good fuel prices.
Comments about arriving and departing
Don't fly over the fish hatchery. Watch your density altitude. Landing Fee!
Rate this trip
10 being best, 5 being average.
6.0 Beautiful country to fly over! However, town is 8 miles away. I always wanted to go but see no reason to return unless I'm staying the night.
| | | |
| --- | --- | --- |
| | Mammoth Airport! | |
I've always wanted to fly into the Mammoth Airport but could never find the reason to do so. Any reason to visit the Serra Nevada Range works for me so one morning my friend Charles and I headed out for breakfast at Mammoth.
Flying up the Owens Valley before 8:00am is breath taking. We were level at 12,500 and the Serra Nevada's were towering 2000' feet above us. The air was smooth as glass and visibility 100 miles or more. We were able to see Mt Whitney and 60 Lake Basin clearly. The flight alone is worth the trip!
I had called Hot Creek Aviation and asked if there was a breakfast place within walking distance of the airport. "Yea, if you like walking, The nearest restaurant is 8 miles.... up hill all the way." The only transportation is taxi or rental car. We rented a car from Enterprise, the only company on the airport.
There are a couple of good places to eat in town, we visited The Breakfast Club and had an above average breakfast on the patio.
Mammoth is not much of a day trip. If you're going to spend a couple of nights yes but as a 3 hour stop I give it a thumbs down.
All photos by right seater Charles Harmon.
| | | |
| --- | --- | --- |
| | Flying up the Owens Valley | |
| | |
| --- | --- |
| | Level 12,500 enroute to Mammoth Airport. The floor of this valley is about 8000'. |
| | Level 12,500 enroute to Mammoth Airport. |
| | Level 12,500 enroute to Mammoth Airport. Folks this isn't Kansas, note the terrain above us. |
| | Level 12,500 enroute to Mammoth Airport. |
| | The Owens Valley ahead |
| | It not easy being an aviation sex symbol. |
| | |
| | Our route takes us up the Owens Valley with a dog leg at Bishop to keep of clear of high terrain. On the weekends Joshua Approach is real good about letting us though the Restricted Airspace above 6000. |
| | On the ramp at Mammoth. |