| | |
| --- | --- |
| | Welcome to 160knots.com ! |
| | | |
| --- | --- | --- |
| | Flying into Lee Vining Airport ! | |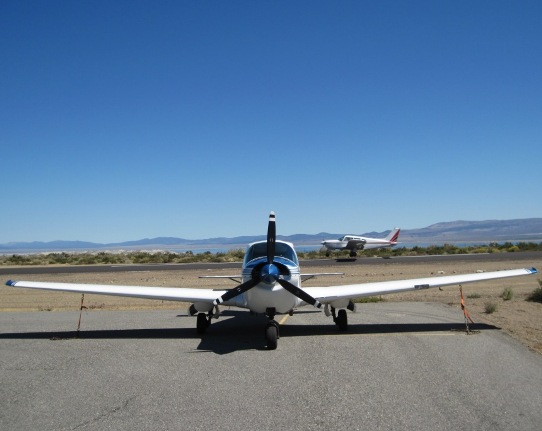 N4201B at Lee Vining Airport. Mono Lake beyond.
| | |
| --- | --- |
| Best time of the year to go? | Spring, Summer and Fall. Some places close down in the winter. |
| Flight time in a Super Viking from KAJO? | 1.9 |
| Food on the airport? | No but several within walking distance |
| Fuel on airport? | No |
| Landing or Handling fees? | No |
| Comments about arriving and departing. | Watch your DA. This is a high elevation airport. |
| Things to do at or near the airport. | Visit the town. Lake actives if you have transportation. |
| Rate this stop with 10 being best, 5 average. | 8.0, surprisingly good stop! A good 1 day adventure |
| | | |
| --- | --- | --- |
| | | |
| | | |
| | Click above for video | |

| | | |
| --- | --- | --- |
| | | |
| | | |
| | Click above for map | |
| | | |
| --- | --- | --- |
| | Had to Try it to Believe it! | |
On Yelp I've noticed a restaurant at a Mobil Gas Station in Lee Vining California had 35 reviews and is rated 4.5 of 5 stars. This must be the 11th wonder of the world! I got to try this place, fuel up the Super Viking!
I really like flying the Owens Valley and this trip was no exception. Climb to 12,500 and over fly the eastern edge of the Sierra Nevada's The view in morning light is stunning with terrain just off the wing soaring above us. I can't stop looking at the snow cap and 100's of natural lakes. God's country!
We doglegged at Bishop, passed Mammoth and descended into the Mono Lake basin. The pattern altitude is 7600' so don't plan your decent too far out. The entire runway was regraded and repaved opening in September 2010 so it's in great shape. After landing get your aircraft secured right away so it doesn't roll backwards down the slope towards the runway.
There is no transportation in town so you're on your own. I also looked for tours that provided transportation to the lake. No such luck. Walk up the only road towards town. You can see the Mobil station on the hill surrounded by cars. Even the overflow parking was full. At highway 395 you can turn right towards town or left towards the Mobil Station and the Whoa Nellie Deli. Choose left, eat, then go to town. The Deli seats about 150 people both inside and outside. Our food was ready within 5 minutes of ordering. The food was good, I mean really good! I couldn't help but laugh while eating lunch, a Mobil station with a chef on staff. Who would have know? I'm happy to give the place 5 of 5 stars. The facility is closed when the Tioga Pass snows in for the winter so call ahead.
We spent the day in town shopping, even walked to the Mono Lake Visitor Center. Before leaving we had a quick bite at Bodie Mike's BBQ, good food and lot's of it.
Lee Vining was a surprisingly good stop! We really enjoyed the day.
| | | |
| --- | --- | --- |
| | Pictures from Lee Vining and Mono Lake! | |
| | |
| --- | --- |
| | Inbound to Lee Vining Airport |
| | Mono Craters |
| | Mono Craters |
| | Mono Tufa Towers along the south shore. |
| | Mono Lake Visitor Center is just north of town on 395. |
| | Lee Vining Airport was regraded, repaved and remarked. The condition is excellent |
| | Lee Vining beyond the airport. This shot gives you some idea of the walking involved. |
| | From the ramp you can see this Mobil Station about a 1/2 mile south of town. Yelp gives this place 4 of 5 stars and there is a reason for that. |
| | Another view of the Mobil Station. Look at the background in this shot. |
| | I'm not tricking you. The food here is rated 4 of 5 stars. http://www.whoanelliedeli.com/ |
| | Mobil gas station Grilled Salmon Salad. The Whoa Nellie Deli had a lot of healthy selections on their menu. |
| | The Whoa Nellie Deli's Legendary Lobster Taquitos. See their menu here (Sept 2010) |
| | There is an overlook near the Mobil Station |
| | The Lee Vining Airport in the foreground, Mono Lake beyond. |
| | Nice store in Lee Vinning, suggest you stop in here. |
| | Another place to stop. |
| | Hiking to the Mono Lake Visitor Center along the stream bed. This route is pretty but it avoids town. |
| | You can pick the trail up at just as you enter town from the south, east side of street. The handrail ends and there is a small sign and a entrance to the trail. |
| | Bodie Mike's BBQ - We had a quick meal here before heading home. Good food, large portions, nice patio. |