| | |
| --- | --- |
| | Welcome to 160knots.com ! |
| | | |
| --- | --- | --- |
| | Flying into Independence California ! | |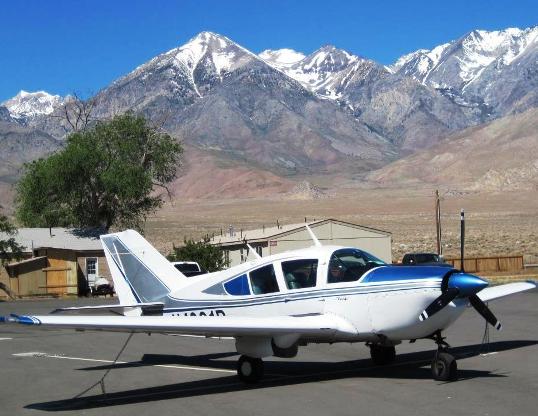 Bellanca N4201B on the Ramp at Independence Airport. It was about 100 degrees when this picture was taken. Yes, that's snow in the mountains.

Best time of the year to go?
Fall though early spring when it's cooler
Flight time in a Super Viking from KAJO?
1.3
Food on the airport?
Within walking distance
Fuel on airport?
No
Landing or Handling fees?
No
Comments about arriving and departing.
Traffic patterns on the east side. I chose not to land or takeoff over the city.
Things to do at or near the airport.
Places to eat. Picnic next to the river.
Visit the Eastern California Museum Transportation required to visit Onion Valley or Manzanar.
Rate this stop with 10 being best, 5 average.
I'd give it a 6.5.
| | | |
| --- | --- | --- |
| | | |
| | | |
| | Click above for video | |

| | | |
| --- | --- | --- |
| | | |
| | | |
| | Click above for map | |
| | | |
| --- | --- | --- |
| | Why Independence? | |
The great part about being a pilot is visiting small towns you'd never tour if you were driving. Independence California is one of those places. For most it's just a bathroom stop on the road to Reno, Tahoe or Mammoth. Fly in and you have time to stop and visit small town America.
I've know about a highly rated French Restaurant in Independence for a couple of years and always had that stop on the back burner. I really like flying the Owens Valley so Adrienne and I decided to give the place a try.
Anywhere in town is an easy walk from the airport. New sidewalks extend out to the airport making it a pleasant experience. Just a block from the airport you'll pass the city park and most importantly the first bathroom since landing. Picking up a sandwich at Subway, returning to the park and eating next to the river looked pretty inviting but we were here for the French food.
We arrived early so we walked to the Eastern California Museum which was very interesting. As I expected there was a lot about the eastern Sierra Nevada's but I was surprised on how much they had on the Manzanar Internment Camp which is about 6 miles south of town. Several items and pictures had been donated by those sent to the camp. The National Park Service is restoring the camp now.
The Still Life Restaurant is just past Hooligan's and across the street from Subway. Their hours are a little funny so check before you go. Despite the stories of slow service we had lunch on our table 15 minutes after walking in the door. The hostess is the waitress and the cook so things could slow down. We asked for a recommendation and that's what we got. I don't claim to be a connoisseur of French food but I know what I like and I liked this place. If you're in a hurry go to Subway, I suggest you try The Still Life if you have a little more time.
| | | |
| --- | --- | --- |
| | The City of Independence California ! | |
| | |
| --- | --- |
| | The City of Independence California, the airport beyond. This is pretty much the entire town so everything is walking distance. |
| | This old locomotive marks the entrance to the city park. |
| | A picnic next to the river looked inviting. Several tables were placed on both sites of the river. |
| | The county seat. Why this picture? Look at the spelling above the entrance. |
| | I understand Latin doesn't have the letter U? I still don't get it... |
| | Hooligan's is an easy walk from the airport. |
| | Our mission: The Still Life for lunch. |
| | We were there for just lunch. I know very little about French Food but I do know what I like. Ordered this on the owners recommendation, the Spicy Lamb Sausage was very good. |
| | The Manzanar Internment Camp just south of Independence. The closed airport is east of highway 395, the internment camp west of the highway. |
| | From the air you can clearly see the roads and some foundations of the old Manzanar Internment Camp |