| | |
| --- | --- |
| | Welcome to 160knots.com ! |
| | | |
| --- | --- | --- |
| | Flying into Fresno's Chandler Airport ! | |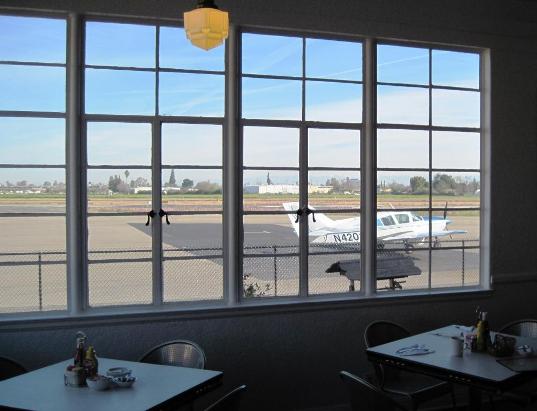 Best time of the year to go?
Spring and fall. Often IFR in the winter. Hot as heck in the summer.
Flight time in a Super Viking from KAJO?
1.4
Food on the airport?
Yes - Tailspin Tommy's
Mon-Sat 7am to 2pm
Fuel on airport?
Yes - Average Price
Landing or Handling fees?
No
Comments about arriving and departing.
If IFR you can call talk to Fresno Approach from the ground on 119.0
Things to do at or near the airport.
I know shopping is near by. I just went for breakfast.
Rate this stop with 10 being best, 5 average.
7.5

, good restaurant sleepy but well maintained little airport.
| | | |
| --- | --- | --- |
| | | |
| | | |
| | Click above for video | |

| | | |
| --- | --- | --- |
| | | |
| | | |
| | Click above for map | |
| | | |
| --- | --- | --- |
| | A Nice Place to Stop | |
Fresno Chandler is a fun stop! The terminal building and surrounding buildings have been restored, make sure and tour them inside and out while you're there. I was off work on a Monday and looking for a place to fly. The weather look good so why not have breakfast in Fresno?
I co-owned a Warrior based at this airport in 1980 and 1981 before they closed the tower and parallel runway so this was a step back in time for me. I assumed I was going to find a airport in disrepair. I was wrong. The City of Fresno has restored the old terminal to it's original luster. The old airline ticket counter was there, oak benches for the passangers even luggage without wheels. A real blast from the past.
Tailspin Tommy's Aerodrone Eatery is in the refurbished terminal overlooking the ramp and runway. The menu is simple but it has something for everyone. I had an omelet and found it very good. Regulars were frequenting the place so I assume other menu items are good as well.
I did purchase fuel before I departed and luckily someone from the FBO came out to help as the self serve payment machine is unlike anything I've seen before. I'm sure I'd figured it out but it may have taken some time. All and all I enjoyed this stop and may return again.
| | | |
| --- | --- | --- |
| | Pictures from Chandler Airport ! | |
| | |
| --- | --- |
| | The refurbished terminal at Fresno Chandler Airport. Tailspin Tommy's is in the terminal. |
| | The inside of the terminal. Notice the prop carved in the bench. WOW, I need to get one of these for my hangar! |
| | More airports should seed for wildflowers between the runway and taxiway. |
| | To the planes! |
| | Fresno Chandler from the air. |