| | |
| --- | --- |
| | Welcome to 160knots.com ! |
| | | |
| --- | --- | --- |
| | Flying into Agua Caliente Springs Airport ! | |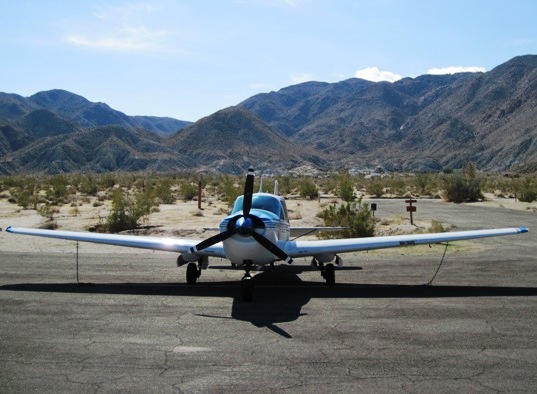 N4201B on the ramp. Agua Caliente Park in the background. It's a 1/2 mile
walk though the desert on a clearly marked trail but worth it.
| | |
| --- | --- |
| Best time of the year to go? | Winter into early Spring when the desert is in bloom. |
| Flight time in a Super Viking from KAJO? | 0.7 |
| Food on the airport? | No |
| Fuel on airport? | No |
| Landing or Handling fees? | No |
| Comments about arriving and departing. | From AFD: Wind permitting, use of Rwy 29 for landing and Rwy 11 for dep recommended due to 460? hill ½ mile west of arpt. |
| Things to do at or near the airport. | Hot Springs, Hiking and Camping all within walking distance. |
| Rate this stop with 10 being best, 5 average. | This is a nice day trip. Go in cooler times of the year. 8.0 |
| | | |
| --- | --- | --- |
| | | |
| | | |
| | Click above for video | |

| | | |
| --- | --- | --- |
| | | |
| | | |
| | Click above for map | |
| | | |
| --- | --- | --- |
| | Things to do in Agua Caliente ! | |
I was looking for a short trip to a location I've never visited before and that's getting pretty hard to find. Agua Caliente wasn't even on my list but I saw it on the sectional. I've always discounted this stop because I find few comments from pilots and what comments I do find are poor at best. Not much to do, runway in poor condition, tricky winds or simply too hot. I decided to give it a try anyway. They are all lying!
Descending into the valley I spotted the airport. To my surprise the ramp was full of planes. Someone on the radio was calling the location of hostiles. WHAT! I scanned the sky thinking I'd flown into an area being used by Air Force 1. Then saw the dust of choppers on the ground. A couple of USMC Osprey's were using the airport for an exercise. The USMC departed and I landed on runway 29 uphill with a slight tailwind capturing one of the last tie downs. Contrary to other reports the runway and ramp conditions are good. Tie down chains are provided and I suggest everyone used them. Desert winds are known to come up without warning.
I noticed most pilots climbing out of their planes wearing bathing suits and carrying towels. Seems many pilots frequent this place for an afternoon soak in the hot springs flying home a few hours later.
I set off up the marked trail to the park. The ranger station had a guide and after seeing the hot springs and camping area I hiked up to Desert Overlook for some pictures. In was January 31st but with recent rains the desert was already starting to bloom. Suggest you bring some water, a picnic basket would be really nice. The park is very well maintained. Camp grounds, bathrooms and showers are immaculate.
This is a good day trip for hiking and a soak in the springs. The desert has a unique beauty in the winter though early spring and this is a great place to avoid the crowds and enjoy it. Agua Caliente is a very relaxing place.
I think I've got it figured out. Pilots give this place less than stellar reviews to keep it a secret. Don't worry, I won't tell anyone.
| | | |
| --- | --- | --- |
| | Pictures from Agua Caliente Springs ! | |
| | |
| --- | --- |
| | The flight line at Agua Caliente Springs Airport. |
| | Arriving Aircraft. |
| | John and Martha King on final |
| | Agua Caliente Springs Airport |
| | Walking to the park from the airport |
| | It's about a 1/2 mile walk up a slight grade to the park. |
| | A PDF of the park guide with camping locations, trails and other information. |
| | Stop at the Ranger Station and pay your fees. |
| | Camping at Agua Caliente Park. |
| | The Marsh Trail up to the Desert Overlook |
| | Desert Foliage |
| | A view from Desert Overlook of the pools fed by natural hot springs. The outdoor pools are a natural 90 degrees, the indoor pool is heated to 102 degrees. |
| | The airport as seen from Desert Overlook |
| | V-22 Osprey's came back for another mission while I was on Desert Overlook |
| | V-22 Osprey's departing Agua Caliente. This was a 3/4 mile shot with a $89 camera. |
| | The outdoor movie theater. |
| | At this point the only thing missing was a horse with no name. |